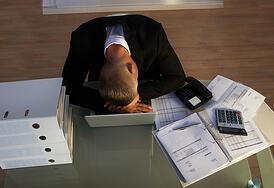 Clear and concisely documented business processes are of significant importance when it comes to the smooth and efficient operation of any organisation. In today's ultra-competitive and highly regulated business environment, it is essential that all staff and stakeholders within an organisation have quick and easy access to the very latest business process documentation. Companies with out of date, poorly written or difficult to access business process documentation face numerous dangers which can ultimately result in a negative effect on the business. These problems can manifest themselves in numerous ways and include frustrated staff, missed deadlines, non-compliance, missed opportunities, all of which can lead to a slow-down in growth and increased costs to the business.
So what are some of the key indicators that suggest an organisation's business processes are not what they should be?
Mistakes made due to out-of-date processes - What made sense a year ago for your organisation might not work today. If you have redundant and out-of-date business processes this could be costing your organisation time and money. Taking time to improve and update these processes will help your staff to do more with less and work more efficiently.
Too much time spent on manual processes – It is common for staff to carry out many processes manually, often replicating work that has already been completed by someone else, or automatically by an IT system. Manual processes are time consuming and can lead to mistakes being made. It is not possible to eradicate all manual processes, however there will be opportunities to gain some quick wins. Identify the most time consuming manual processes and introduce simple ways to automate them in order to free up time and minimise the risk of manually generated errors.
Overly complex processes – Complicated business processes can sometimes be difficult to understand and time consuming to follow. This can lead to errors and non-adoption as staff look for easier ways to complete a procedure. It is worth spending time to identify the top 3 most complicated processes within the organisation and look at ways in which these can be simplified/ broken down into smaller steps.
Staff struggle to find information – Staff struggle to find information quickly, whether it is the processes and steps to complete certain tasks, accessing product updates, price lists, catalogues, training material etc. There is often no single repository for this information which can be accessed by all staff at the click of a mouse. In many cases, using the much overused term, there is not "one version of the truth" available to all staff. Overcoming these issues by making the latest information readily available to all employees will certainly improve productivity.
Failure to comply with regulations – Organisations are facing a growing number of regulatory/statutory rules and regulations which they need to comply with, not only to maintain their standing in the market, but in some case to avoid criminal charges. If an organisation is unable to clearly demonstrate how these rules and regulations are communicated to their staff along with the associated processes which must be followed to ensure compliance, it will struggle when internal or external audits are carried out.
Inability to quickly introduce new processes, or adapt existing processes to meet new requirements – Organisations operating in a fast changing or growing market, where mergers and acquisitions, new products and services are common, often struggle to update and publish revised processes to meet these new requirements. In these circumstances, it is essential the organisation has an agile, easy to use system that enables these changes to be made quickly, which will minimise any negative effects on the business.
Business Process Management (BPM) software provides organisations with a means to streamline, automate and optimise their business processes to ensure they are efficient and bring value to the organisation. Here at Eclipse, we provide the UXC Eclipse Business Process Solution (BPS). BPS covers all of your business process management needs. Consisting of a structured information system, the solution maps the relationships between processes, departments, systems, rules, regulations, risks and objectives, across single or multiple locations and makes them easily available via a web browser to all relevant staff and stakeholders.
For further information on improving your business process with BPM, feel free to contact us on +44 (0)203 866 8800, or view our other BPM related blogs: