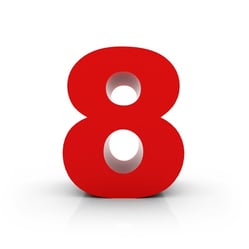 As outlined in a previous blog post, legacy finance systems and traditional accounting processes were not built for the modern business economy. In today's economic climate, filled with risk and uncertainty since Brexit, organisations need to rely on their financial data to guide early insights and drive decision-making. Relying on rigid finance systems and out-of-date processes can be particularly problematic at month-end as transactions created and processed through the period build up and the large set of unreconciled transactions are a major burden on employee productivity. Organisations are looking to leverage Continuous Accounting in order to avoid headache at month-end and achieve Modern Finance status.
As previously discussed, Continuous Accounting refers to the embedding of automation, control and period-end tasks within day-to-day finance activities. There are numerous benefits to be had by moving away from traditional accounting and leveraging Continuous Accounting. Our Finance Automation business partner BlackLine highlights the following 8 transformational benefits of Continuous Accounting:
More balanced workloads
Rather than executing the majority of period-end accounting efforts in only a few days' work, tasks can be performed as required in smaller batches.
More time for analysis
Spreading tasks out through a period does more than balance workloads, it frees time for in-depth, daily analysis of the latest data.
Current – not out of date – results
Data analysis is performed continuously, hourly, daily, weekly, monthly, etc. depending on the needs of the business.
Finance better aligned with business operations
With real-time data analysis, Finance becomes more intelligent, always armed with information to guide business strategy.
Improved business agility
Strategic guidance from Finance enables executive leadership to continually make better decisions with current information.
Refocus on value adding services
By moving accounting teams away from a reactive, transactional approach, they can focus on analysis and adding new value to the organisation.
Employee engagement
Balanced workloads and meaningful work ends the era of turnover due to burnout, and unleashes exceptional accountants.
Continuous improvement
Combining all other benefits, this modern approach to accounting enables Finance leaders to constantly hone and optimise internal process.


For further information on Continuous Accounting, call us on +44 (0)203 866 8800 or download the eBook, 'The Modern Approach to Closing the Books':