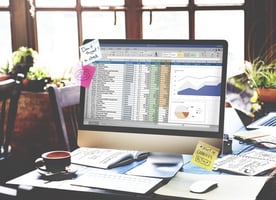 Many finance and accounting teams spend a large amount of their time on accounting operations, such as the processing of account reconciliations and transaction matching. This often involves tedious, manual activity, with heavy reliance on Excel spreadsheets and physical files to get work done. Such methods hold many disadvantages to the organisation. Not only is there risk of human error resulting in inaccurate financial records, but there is a lack of audit trail, time consuming reporting and missed opportunities for growth.
A recent report by CIMA on Finance Transformation confirmed that small business accountants are spending most of their time on accounting operations. However, time allocation is shifting from accounting operations to management support. Small businesses do not have the luxury of hiring 20 plus accountants to handle their finance and accounting function. To that end, small organisations need to find ways to work smarter, without relying on manual processes, in order to get more done with fewer resources. At the same time, small companies need to ensure they do not overwork their employees and risk high attrition or high amounts of overtime. In addition, in order to scale, small businesses should implement standards to remove a single point of failure should the accountant(s) decide to leave the company.
To achieve these goals, organisations need to modernise the way their finance and accounting operations work. Through automating day-to-day repetitive tasks and by putting standardised procedures and tasks in place, accountants will spend less time bogged down with manual accounting activities and more time focusing on strategic initiatives that can help drive company growth. They can work on implementing controls, engaging in the decision making process and supporting management directives. In some ways, this process can mean more to smaller companies than larger businesses as growth is critical. Therefore, finance teams in these companies should be focused on growth initiatives, not reconciliations.
The BlackLine Modern Finance Solution provides benefits to organisations of all sizes, from the very small (here at Eclipse we have one client who has just two users), to the very large, by improving efficiencies in the financial close by automating account reconciliation and transaction matching processes and therefore freeing up staff time. The solution's built in controls decrease risk by providing global visibility into finance and accounting processes. For many clients, BlackLine solutions have been proven to pay for themselves in the first year of usage.
For further information, call +44 (0)203 866 8800, check out our recent webinar recording to find out how to automate up to 99% of the reconciliation process: