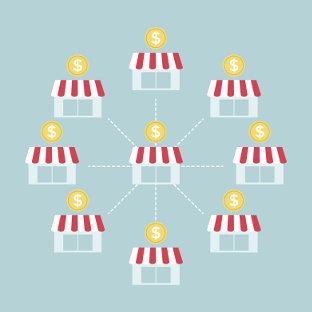 As Eclipse has discovered over the past several years, franchisors have historically relied upon in-house, custom built systems for managing their franchise based accounting. Systems built upon complex spreadsheets and/or custom based code can be very difficult to maintain and are often prone to errors. During a recent market analysis, Eclipse discovered a great number of franchisors who run their accounting using the Microsoft Dynamics™ GP platform. Dynamics GP is an excellent platform for the core accounting, but does not support franchise calculations within the core product.
The Eclipse Royalty & Rights Management System for Franchise Based Accounting ''ERRMS-FBA'', is specifically designed for Dynamics GP and is the only integrated, out-of-the-box solution for franchise accounting. The solution comes in two distingue versions, Standard and Enterprise. Standard contains all of the accounting for companies who have already consolidated their point of sale franchisee based transactions and are looking to automate the back office operation. Enterprise comes with the pasUNITY data integration platform, which collects all distributed sales data via the cloud and seamlessly consolidates the results for further processing at a centralized hub. The solution can run in the cloud, or as a hybrid cloud solution.
What makes this such a unique solution? We are the only comprehensive franchise accounting solution designed for the mid-market. The solution combines software, services and ongoing support tailored specifically for franchisors who manage royalties and rights. Our solution is built upon our extensive experience servicing clients in similar industries. We strive to improve process, accounting and management of royalties across an entire enterprise. Built on the Dynamics GP foundation, ERRMS will automate royalty income and eliminate the need for expensive, cumbersome, stand alone, or manually maintained systems banded together to manage royalty income.
We can effectively manage the following aspects for clients:
The franchise contract and their associated calculations
Franchise revenue
Data collection and consolidation from multiple locations

The software can be configured to manage any calculation no matter how complex it may seem, due to a very flexible calculation definitions engine. The latest version is also operable on any mobile device, tablet or smartphone.
For additional information, please contact us on +1 201 746 6255, or read more about our franchise accounting solution on our web page: