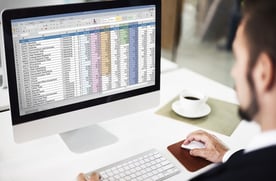 In our previous franchise accounting blog post we explored why franchising calls for meticulous accounting. We now consider why franchisors and growing organisations are likely to require more specific functionality for the processing of royalties. While companies have previously got by using spreadsheets or existing financial management software, many are now turning to royalty solutions for more advanced capability in royalty accounting.
In a recent interview, Microsoft Dynamics World asked us, as a long-standing Dynamics GP ISV, whether there is something about GP that makes it right for royalty and rights management. Our take on this is that it's not GP that makes it right for royalties and rights management. However, what we've seen is that when companies start out on QuickBooks or some lower-end startup solution and then have some need for royalty accounting, they start with spreadsheets. So, you sell $1,000,000 worth of product and do your accounting on spreadsheets because you might be issuing your payments through QuickBooks. It works fine, and then the company goes from 20 royalty agreement contracts to 200 and now suddenly they're a $10 million business. QuickBooks might still work for them; but the spreadsheets become too cumbersome to maintain.
The royalties are complex and payments are scheduled with penalties for non-payment. Trying to control this with spreadsheets now becomes an issue. Miss a few calculations or make a few late payments and you will start to get pressure from the license holders. The royalty side is critical because unlike other industries, if you don't pay somebody royalties on time or the right amount of money, you could lose the rights to distribute.
When we looked at that market space, we saw some significant royalty systems available, but the price range was in the hundreds of thousands dollar range. We looked at that as an opportunity. Number one there's a lot of migrations between QuickBooks and something like Dynamics GP, so we decided to build royalty accounting into GP and then price it like GP. We filled that void with the Eclipse Royalty and Rights Management System (ERRMS). ERRMS is a complete royalty and rights management accounting solution specifically designed to integrate seamlessly with GP.
As our clients grow, we can scale up our ERRMS and provide an end-to-end solution at a price point they can justify. Because we developed our software to work within GP, there is no difference between when customers are in the purchasing module or when they're in the royalty module. It's just another module within Dynamics. Our menus work the same, our setups work the same, you use all the Dynamics reporting functions, there's no pushing or pulling data, it's all moved from one module to another by our programs without the customer having to do anything manually. There's no integration of data; it's all wrapped into Dynamics.
This blog post is an extract from the original interview posted on Microsoft Dynamics GP World on 26/10/2016. For further information on moving away from manual royalty accounting processes and moving to royalty accounting software for automation, call us on +1 201 746 6255, or check out our solution in more detail: