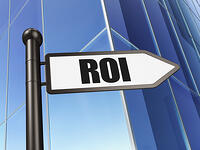 Many departments rely heavily on paper-based documents, particularly finance teams. From invoices, to purchase orders, to contracts, all types of documents need to be recorded, processed and filed away. Yet many organisations are unhappy with their document management processes and would like to improve efficiency in this area. According to a recent market research report we compiled into document management, not enough is being done to remove paper from the finance department, resulting in the filing, storage and retrieval of original paper-based invoices, which is inefficient both in terms of man-power and costly office space. There are lots of drivers for automating document management, particularly the positive return on investment (ROI) it can have on the business.
An automated document management system can drive a positive ROI by:
Eliminating paper – automating document management reduces the need for paper invoices. Documents are automatically created, delivered, archived and retrieved. It also removes the cost of physical document storage.
Streamlining operations – automated technology streamlines the purchase-to-pay cycle, significantly speeding up the processing of invoices. Typically, document management solutions scan invoices with OCR (optical character recognition) technology and accounting entries are created and posted automatically to the finance system.
Addressing compliance challenges – automating document management ensures invoices are not misplaced or filed incorrectly, so organisations can provide a full audit trail and achieve corporate compliance.
Automating the invoice approval processes - with automated document management, invoices can be approved for payment or rejected in just a couple of mouse clicks via automatic notifications. In turn, faster payment times can lead to better supplier relationships.
Eclipse provides the V1 document management automation solution. In addition to electronic storage and fast search/retrieval of scanned purchase invoices, V1 enables automatic generation and posting of accounting entries directly from the scanned purchase invoice images, which helps to streamline processes, improve control and drive down processing costs. In most cases, organisations using V1 can achieve a positive ROI within six months.
To discuss how document management automation can bring substantial benefit to your organisation, please contact us on +44 203 058 1000. Alternatively, calculate the potential ROI that document management automation from V1 can bring your organisation: