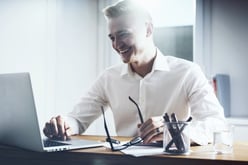 As part of our latest blog post series exploring some examples of short-term, tactical business wins for organisations looking to streamline core finance and accounting processes, we now look at the benefits of automating the management of finance and accounting task lists.
The process of managing tasks is a complex and critical element of effective financial close management. Finance and accounting teams must effectively manage and execute tasks of all kinds. Often the level of tasks can be overwhelming, especially with legacy finance and ERP systems bearing the load. Many finance and accounting tasks are still managed using spreadsheet based task lists, which is not only inefficient, but lacks sufficient visibility and control. Effectively managing high task volumes and gaining insight into task progress requires a purpose-built task management tool.
The BlackLine Task Management module provides a fast and easy to implement solution that is able to manage and provide visibility and control of finance and accounting tasks in one unified platform. With BlackLine Task Management you can:
Centrally manage processes – hierarchical tasks lists and workflows control numerous manual processes across accounting and finance. Cross-product tasks dependencies, certifications and email notifications combine to ensure that tasks are established, assigned, communicated and achieved ahead of deadlines.
Accelerate accounting processes – tasks are configurable across the BlackLine solutions and can be linked with reconciliations and journals, guaranteeing the correct sequence, flow and rollup of related activities. Milestone tasks can be used to track activity and automatically certify when child tasks are executed.
See task progress in real time – real-time dashboards and comprehensive reporting capabilities give accounting leaders immediate visibility into completed and outstanding items by task type, geographic location and due date.


Automating the management of finance and accounting tasks is a quick business win for organisations as the benefits can be realised fast:
Greater control - real-time notification alerts warn users of pending tasks and notify management of past-due tasks or bottlenecks.
Improved reporting - the dashboards are configurable and can be role-specific to give preparers, managers, and executives critical at-a-glance information, with the ability to drill-down and filter data.
Greater visibility – finance and accounting teams have unprecedented visibility into the plans for and progress of various tasks in the financial close. Managers have immediate visibility into completed and outstanding items.

For further information call us on +44 (0)203 866 8800 or register for our overview webinar of the BlackLine Task Management solution: