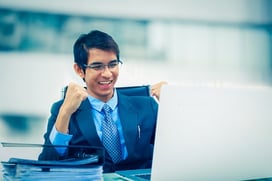 As part of a new blog post series, we look at some short-term, tactical business wins for organisations looking to streamline their core accounting and finance activities, starting with automating the transaction matching process.
High-volume transaction based reconciliations can be some of the most time-consuming and painful components of the financial close process. Many finance and accounting teams upload transactions from different data sources (e.g. bank transactions from the GL and bank statements) into spreadsheets. Then by using a combination of manual and sometimes complex formulae/lookups they begin the matching process. Reconciling transactions where data/reference/amount fields match perfectly does not cause much of a problem, however where there are many to one/one to many matches or where amount variances exist things can start to get complicated.
The BlackLine Transaction Matching solution streamlines and automates detail-heavy reconciliations all in one centralised workspace. The solution handles highly complex matching scenarios and highlights incomplete or missing data to ensure time sensitive exceptions are routed to the correct staff. With BlackLine Transaction Matching you can:
Match data faster – millions of transactions can be reconciled automatically each minute.
Match any transaction types – manage any accounting transaction types including, bank to general ledger, bank to credit card, bank to accounts receivable, received-not invoiced to received-invoice received, third party invoices to internal records, intercompany transactions and investment transactions.
Identify unmatched transactions rapidly – when unmatched transactions are found, accountants can quickly and easily create reconciling items as part of a reconciliation and include a direct link to incorrect transactions within a correcting journal entry.


Automating the transaction matching process is a quick business win for organisations as the benefits can be realised fast:
Eliminates tedious manual labour
Frees up time for finance and accounting staff
Shortens the financial close
Improves the quality of reporting

For further information call us on +44 (0)203 866 8800 or view our Transaction Matching webinar: