Eclipse recently commissioned an independent research organisation, Redshift Research, to gauge finance professionals' views and opinions on document management and storage. One of the questions we asked respondents was 'how much do you currently spend on printing, photocopying and postage in a twelve-month period?'.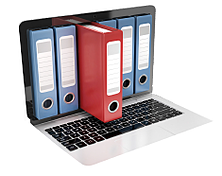 With 46% of companies with a £25 million+ turnover spending over £20,000 a year on printing, photocopying and postage alone, it quickly becomes clear that implementation of an electronic document management system (EDMS) would provide a very fast return on investment to businesses by:
Removing postage on POs and remittances
Minimising photocopying and faxing
Reducing paper stationery costs
Reducing lost invoices
Cutting off-site storage costs
Reducing office space required for document storage
Looking beyond printing, photocopying and filing costs there are further productivity benefits that an EDMS can deliver. For example, data entry time can be reduced, invoice approval processes can be streamlined and access to relevant documents is quicker and easier. This means that finance staff have the ability to instantly distribute information across the business and they can respond to customer and supplier queries more promptly.
In addition to streamlining AP processes, EDMS can be used to improve Accounts Receivable (AR), from reducing the time spent chasing payments to improving cashflow predictions and minimising the writing off of bad debt. EDMS also enhances a company's business continuity strategy; whereas paper records can be lost or damaged electronic records can be easily backed up. Companies can also meet compliance requirements more easily because auditors have instant access to a complete paper and authorisation trail, with every communication easily found and linked. 
Furthermore, for companies with a green agenda and corporate and social responsibility programmes in place, EDMS helps businesses to reduce paper generation and off-set carbon emissions.
Automating the accounts function is fast becoming a key requirement for Financial Directors. In a world of minimal margins and growing government and supply chain demands for electronic invoices and eProcurement, the continued reliance on paper-based financial documentation is an expensive anachronism. It's time for companies to create an end-to-end document and information management strategy and realise the benefits, from immediate cost savings to faster payment timescales and eProcurement.
For a free copy of the Eclipse Research Report, 'Researching the Future of Efficient Finance', and more advice on how you can automate core financial processes: