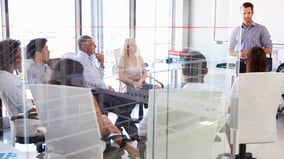 Businesses use data generated and verified by Accounting to know how they are performing, to manage operations, and to make key business decisions. This is the primary reason Accounting exists in the first place. And with the accelerating pace of business today, accurate, up-to-date data is more essential than ever.
So then shouldn't the Accounting department be managed in the same way? CAOs, Controllers, and Finance chiefs need operational and performance data to know how their department is performing, to efficiently manage their operations, and to enable data-driven decision making. Visibility is even more critical when it comes to the financial close, to enable accountants to deliver process-optimising financial data that is still relevant to the company's future, instead of creating a picture of the past. But with most of the accounting operations still performed through spreadsheets and manual processes to this day, this simply isn't happening.
It is imperative for companies to start modernizing their Accounting functions in order to remain competitive. This starts by eliminating manual processes and digitising operations. Once this is done, Accounting and Finance executives need access to performance data to improve their processes. They also must be able to benchmark this data against their peers to really understand how they are doing and expose areas of weakness. With this insight, they can make meaningful changes that will benefit the broader business.
When Accounting operations are improved in this way it not only makes processes more efficient, but it also provides the real-time data companies need to stay ahead of the competition in a rapidly changing world. This level of actionable intelligence elevates the CFO and the finance team from a cost center to a value-adding, strategic leader of the business.
The BlackLine Finance Controls and Automation platform automates manual tasks and digitises accounting processes, while BlackLine Insights provides the data needed to improve operations. Together, they represent a real Modern Finance solution.
For further infomation, get in touch on +44 203 866 8800 or download a whitepaper on Modern Finance: