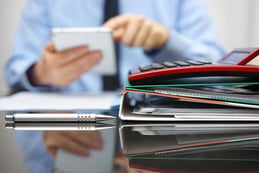 Many finance managers would agree that the audit process can be painful. From assessing the way accounting operations are being handled to what information is being handled and by whom can raise anxiety levels. However confident your finance team may be with their close processes and account reconciliations an auditor may pick up on something that has been overlooked.
During an audit, your governance, risk and compliance (GRC) controls are checked to ensure they are effective enough to catch potential errors in your close. If they are not then you are at risk of non-compliance with rules and regulations, such as, SOX, Solvency, IFRS etc. While finance/ERP systems automate many of the accounting processes required to run an efficient organisation they also leave loose ends that need to be tied together manually, such as the monitoring of internal controls to address compliance risks and the processes leading to an accurate financial close.
Far too often, accountants physically compile task lists using spreadsheets to manage different close responsibilities. Visibility into actions and the status of tasks is obstructed by spreadsheets executed using different workflows. There may be different time zones in which accountants complete their tasks, which makes matters worse. Individual accountant tasks can be dependent on colleagues' input resulting in a constant stream of emails back and forth. Furthermore, key closing items can be missed if an accountant leaves and no physical record of remaining close tasks is left.
If these control deficiencies are true to your organisation and cannot be easily addressed within your existing finance/ERP system you should consider a financial close solution with built in workflows and controls, such as the BlackLine Enhanced Finance Controls & Automation platform. The BlackLine Controls Assurance solution empowers finance and accounting teams to meet the challenges they face documenting and overseeing the testing of their internal controls environment. It provides a central repository of month-end checklists that are compiled in a consistent manner across the organisation. Real-time dashboards and reporting capabilities provide immediate visibility into completed and outstanding items. If an accountant leaves the organisation their successor knows the exact steps needed to assure an accurate financial close.
For further information on strengthening your finance controls to take the pain out of audits, contact us on +44 (0)203 866 8800, view our related blog posts, or download these related whitepapers: