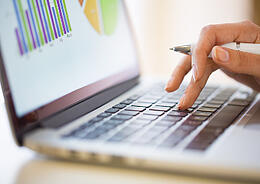 Reconciliation is a vital component of the financial close and yet for many organisations the process is extremely time-consuming and error-prone due, more often than not, to heavy reliance on spreadsheets. Reconciliations carried out in spreadsheets can be problematic, from formula errors that cause reconciliations to be incorrect, to broken cell references. Furthermore, with spreadsheet-based reconciliations, there is a lack of visibility and traceability, reduced control and unnecessary risks to the financial close management process. Weaknesses in the reconciliation process often lead to mistakes on the balance sheet and overall inaccuracies in the financial close.
Automating the reconciliation process can instantly improve your financial close management to ensure a fast, clean close. This can be achieved with automated reconciliation and matching software, which increases accuracy and significantly reduces the time it takes to close, providing a cost effective, efficient and structured process for managing this part of the financial close. It does this by taking in data from all sources of financial information, such as ERP systems or bank files. The software then automatically compares account balances and where required, matches transactions between these source systems, identifying any unreconciled balances/unmatched transactions. By automating much of the reconciliation and matching process, the finance team can focus their efforts on resolving the discrepancies, thereby reducing the time required to complete the close.
In addition, automated reconciliation software, can help to improve an organisation's financial governance, reduce risk of fraud and ensure compliance. By following a structured, repeatable process the software ensures that every step in the reconciliation process is easier to verify, transparent and fully auditable. Indicators can be set up, enabling you to avoid and identify errors and ensure they are corrected before they affect management information. Accurate reporting has been emphasised in recent years by standards, regulations and legislation like SOX, Solvency and IFRS among others.
Here at Eclipse, we recommend BlackLine Account Reconciliations and Matching, a solution providing rules-based auto-reconciliation, which typically system-certifies 40-65% of an organisation's accounts each month, creating a faster, more efficient close. The product also features real-time dashboards and reporting to provide visibility into reconciliation status, timeliness, content and quality.
For further information, contact us on +44 203 866 8800. Alternatively, download the Ventana research whitepaper, 'Making the Financial Controllers Job Easier', which provides further insight into the benefits of automating financial close processes: