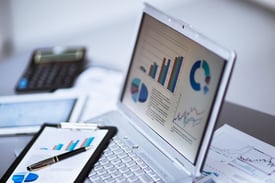 Finance and accounting teams are facing an increasing number of challenges due to intensifying global competitive pressures, a rapidly changing regulatory landscape, the growing complexity of financial processes and heightened demands for clear visibility into balance sheet data. The requirements placed on finance professionals will only continue to grow.
Despite this, it is worrying that only 12% of organisations have substantially automated their finance and accounting processes, according to leading research company Ventana. Automation in finance and accounting is of vital importance as it can eliminate many of the repetitive and tedious tasks that are so frequently carried out, such as the rekeying of data in spreadsheets. Many finance teams rely heavily on spreadsheets to get work done, which can be hugely time consuming and prone to error.
Gartner refers to the automation of financial processes as, 'Enhanced Finance Controls and Automation (EFCA)'. EFCA fills the gaps in ERP and CPM processes and presents opportunities to improve the finance function. Our business partner, BlackLine, a leading provider of EFCA software, simplifies the EFCA concept to, 'Modern Finance', designed to, '…help accountants work smarter and more efficiently - to gain a digital edge'.
Companies looking to achieve Modern Finance status should leverage EFCA technology, such as the BlackLine Finance Controls and Automation platform, to:
Strengthen controls – meet the challenges faced documenting and overseeing the testing of your internal controls environment.
Lower compliance risks – map controls to compliance frameworks and maintain their integrity.
Gain greater efficiencies and visibility - automate and streamline spreadsheet-driven processes to gain real-time visibility into your financial close, account reconciliations, journal entries, regulatory compliance and more.

Through doing so, accountants have more time to spend on value add activities, such as supporting their CFO in more strategic tasks. If your company is not considering automating financial processes you face being left behind as your competitors transform to Modern Finance organisations.
For further information, or if you would like to see how the BlackLine solution can help your organisation, please contact Gary Waylett on +44 (0)203 866 8800 or: