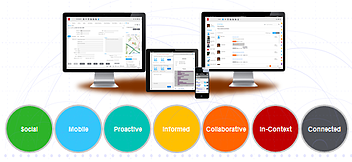 Infor SunSystems v6.2 is due for release in January 2014. This release is set to build on the existing SunSystems 6.1 release, part of the Infor10x solution set, by delivering a number of new standard features and modules. Whilst recent SunSystems releases have delivered a new reporting engine based on Microsoft SQL Server Reporting Services (SSRS) to deliver standard listing type reports, web enablement, integration with Microsoft SharePoint, new integration and social platforms and workflow capabilities, SunSystems v6.2 will be the most functionally advanced yet.
Additional administrator functionality will be delivered with the web client along with improved form and filter definition management. Those organisations managing multiple entities in SunSystems will benefit from enhanced business unit administration functionality. This will be delivered in a new console application that will streamline many aspects of business unit management. New functionality will include an option to take Business Units and Business Unit Groups online and offline, plus there will be enhanced Business Unit backup, copy and synchronisations functionality.
For international organisations, SunSystems v6.2 will include Unicode enablement of the Business Unit database and the release of Hindi and Arabic language translations (including right-to-left, plus the Hijri calendar).
However, two of the most interesting enhancements expected in this release, which we are very excited about here at Eclipse, are two new additional modules, Extended Analysis and Enterprise Data Management. Here is a summary of each:
Extended Analysis Module
Traditionally, SunSystems has always provided extensive and flexible analytical capabilities and its strength in this area continues to be a real differentiator when compared to functionality included in competitive products.
Existing functionality enables analysis dimensions to be defined and codes created to categorise, group and report on transactional and static data elements within the SunSystems data.
Building on this, the Extended Analysis Module enables additional custom categories to be defined on top of analysis dimensions that already exist.
For example, a Project analysis dimension may be defined that enables the user to record project codes against ledger transactions. Each project code will have a unique analysis code and an analysis code description. Reports such as Revenue/Cost/Profit and Loss can then be produced by Project Code/Description.
The new Extended Analysis module will enable additional analysis fields to be added to the analysis dimension/code. For example, you may want to record additional information against a project such as Project Manager, Project Start Date, Project Type and various other items. See table below for example:
Please note: The orange shaded items above are standard SunSystems functionality. The additional fields for each code (green) could be defined using extended analysis.
To summarise, the purpose of Extended Analysis is to allow a series of additional, user definable fields to be created against any given analysis code for the purpose of further analysing the data. All of these fields will be available using the standard reporting tools (Q&A Vision and Microsoft SSRS).
Enterprise Data Management
At Eclipse, we are often asked by clients whether it is possible to create a standard corporate chart of accounts and analysis coding structure which can then be automatically replicated across subsidiary Business Units. Often, organisations want to ensure that when a new chart of account record/analysis code is created in one business unit, it is immediately replicated across other business units.
Whilst there are certainly ways to carry out these tasks using standard SunSystems functionality such as Transfer Desk/Automation Desk, the configuration and on-going maintenance process can be a little bit complicated and time consuming to manage.
The Enterprise Data Management (EDM) module has been designed to manage this whole process within SunSystems centrally from a single web-based portal. The module runs on Infor ION technology and its purpose is to simplify the management and control of reference records across multiple business units.
Both the Extended Analysis and Enterprise Data Management modules are due for release with Infor10x SunSystems v6.2 in January 2014. For further information, or to register your interest in SunSystems v6.2 please call us on +44 203 866 8800 or