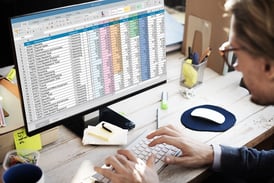 Finance and accounting teams often rely heavily on spreadsheets to track and monitor their close processes as their finance systems are not well positioned to manage and automate the financial close. While spreadsheets may go some way to help with the various individual close processes they are not focused on delivering what Modern Finance organisations require for effective management and control.
The dependence on spreadsheets and the manual processes involved to maintain them runs the risk of financial reporting errors. Furthermore, when relying on spreadsheets to manage the close, the tools to effectively manage and coordinate the various activities, tasks and controls between the relevant individuals and teams are often missing.
There are ways to improve automation and control around the financial close. Gartner state, 'When considering the automation and unification of critical financial processes, such as account reconciliations, compliance and financial close, the whole is greater than the sum of its parts. These activities are highly dependent on each other and, when unified, create new insights and return on investment (ROI) savings'.
Companies such as Expedia, eBay, Thomson Reuters, AIG, CostCo and Heinz have already improved their financial close process through the implementation of specialist technology from BlackLine. BlackLine's Enhanced Finance Controls and Automation (EFCA) platform provides these organisations with centralised visibility and control, monitoring and increased efficiency around the financial close, with increased productivity, optimised workflows, reduction in time to close and enhanced accuracy. The solution fully integrates with existing finance systems to provide a single view in real-time across your whole close process across the business.
For further information about how BlackLine can help your organisation manage and automate its financial close process and end reliance on spreadsheets, contact Gary Waylett on +44 (0)203 866 8800, or view our related whitepapers: