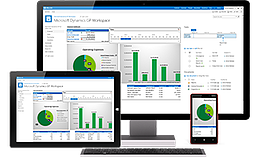 Firstly, on behalf of the team here at Eclipse, I would like to wish our clients and partners a very happy, healthy and prosperous New Year. We thank you for your support over the past year and look forward to the opportunity of working with you in 2015.
This year, we are very excited about the prospect of introducing the newly released Microsoft Dynamics GP 2015 to our clients. Dynamics GP 2015 was made generally available on 2nd December 2014 and includes the accumulation of 120 features delivered since GP 2013. Based on user feedback, there are improvements to workflows, single sign on, service based architecture and much more, making day-to-day usability easier than ever before.
Here is a lowdown of some of the key Dynamics GP 2015 features and capabilities:
Expanded workflows to help streamline financial, purchasing, sales, payroll and project expense related approvals. These new native workflows enable customers to quickly customize their solutions and accelerate business approvals.
Single sign on through integration with Microsoft Azure Active Directory to help users work seamlessly across Dynamics GP, Office 365 and other cloud-based applications.
Service based architecture to lower the cost and time required for customers and partners to create and modify business solutions built on Dynamics GP.
Updated release of Business Analyzer has a companion tablet application available for Windows, iOS and Android. This allows you to not only receive information on the go, but also collaborate in real-time.
Refreshable Excel reports with SmartList Designer helping ensure that data is always up-to-date.
Management Reporter integration via new navigation lists. The navigation list displays only the reports that the user has security access to. They can be viewed in Management Reporter Viewer with just a click of a button.
A lower-cost self-service user license type for users who need only very light functionality within Dynamics GP. The self-service user CAL is a named user that will be applied per individual.

Clients can find more information, including online demos, videos and a detailed capabilities guide at http://www.microsoft.com/en-us/dynamics/erp-gp-overview.aspx
Here are some other useful links:

For further information, or to discuss your Dynamics GP requirements, feel free to call us on +44 (0)203 058 1000, or: