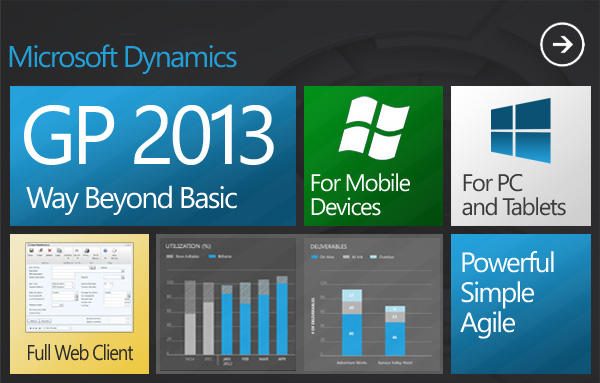 At Eclipse, we have been implementing Microsoft Dynamics Great Plains to help organisations improve their financial management processes since 1996. During this period the solution has seen a lot of advancements, with a staggering 125+ functionality enhancements in the latest release alone.
Microsoft Dynamics GP 2013 was launched at the end of 2012. Featuring a powerful new web client, GP 2013 can optimise daily operational and financial processes, improve collaboration, BI and reporting and deepen interoperability with other Microsoft products and technologies.
Whether you are an existing Dynamics GP user and are looking to upgrade to the latest version, or whether you would like to replace your existing finance solution, here are 5 business benefits GP 2013 brings, to make your decision a little easier:
Simplicity


GP 2013 provides faster, more convenient access to the information and capabilities needed to connect and collaborate every day through deeper interoperability with the Microsoft stack (Microsoft Office, Office 365 and SharePoint).

Flexibility


GP 2013 enables you to work anytime, anywhere via the innovative new web client, whether it is from the office, on the road, or at home and on a PC, tablet, or mobile device. Such flexibility boosts daily productivity and employee satisfaction by promoting empowerment, rather than imposing limitations.

Enhanced decision making


Role-specific, integrated business intelligence inherent in GP 2013 can turn insight into action, so you can anticipate opportunities and proactively address issues before they arise. The Business Analyzer dashboard, which is now accessible over the web, allows you to track KPIs, anticipate opportunities, delegate tasks and take informed action right from the GP 2013 home page.

Streamlined processes


The new and improved feature and capability enhancements across the solution help you streamline your end-to-end business processes and control your costs. For example, you can optimise purchasing productivity and accuracy by setting specific percentage tolerances; improve inventory efficiency by monitoring and tracking items with unique reasons codes; and speed shipping by drop-shipping serialised items directly from suppliers to customers.

Improved reporting


Out-of-the-box SQL Reporting Services, Excel reports and report templates in Word give you a more complete view of your business and simplify your regular reporting needs.
For further information, call us on +44 203 866 8800, or register your interest here. Alternatively, register for our upcoming Dynamics GP 2013 Overview webinar on Thurs 3rd Oct 2013 at 2pm BST: