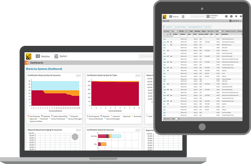 Thorough, accurate reconciliations are one of the key internal controls that help to ensure the integrity of an organisation's financial statements and their underlying data. In many organisations, the time required to complete these tasks results in an extended time to complete the financial close. In a recent blog post, we explored how for many organisations, the reconciliation process is extremely time-consuming and error-prone due, more often than not, to heavy reliance on spreadsheets. Reconciliations carried out in spreadsheets can be problematic, from formula errors that cause reconciliations to be incorrect, to broken cell references.
BlackLine Account Reconciliations enables organisations to automate and standardise the reconciliation process. It drives accuracy in the financial close by providing accountants with a streamlined method to verify the correctness and appropriateness of their balance sheets. The application provides an intuitive workspace in which accountants can quickly compare data (finance system, bank, subledger, schedules, etc.), investigate discrepancies, attach supporting documentation and take required actions to ensure an accurate and efficient financial close each month.
If you would like to see first-hand how BlackLine can help improve your financial close processes, why not take advantage of our unique free trial of BlackLine Account Reconciliations. The trial offer includes consulting, training and associated support services from Eclipse throughout the trial period that will help you to ensure you gain a clear understanding of the benefits to be gained by implementing the BlackLine solution.
All we require from you is a file containing trial balance information and we will do the rest. Once we have configured your trial system and provided some user training, all you will then need to start test driving the system is an internet connection.
If you are interested in a trial, or would like to discuss the BlackLine solutions in more detail, please contact Gary Waylett on +44 203 866 8800 or send an email.