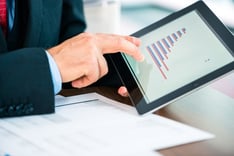 In the light of Brexit, it is more important than ever for organisations to use their financial data to guide early insights and drive decision-making in order to stay competitive in uncertain times. Legacy systems which only provide a view of the past and do not provide up-to-date financial data can be fatal for businesses. Management need to have complete visibility of performance in real-time to make accurate business decisions.
In a period of economic instability, senior finance professionals have an opportunity to demonstrate their more strategic side and play the role of a business partner. According to Financial Director, 'accountants are going to have a major role in shaping and responding to what comes next'. It is therefore a perfect time for finance and accounting staff to improve efficiency in their business processes and this can be achieved with Continuous Accounting.
As discussed in a recent blog post, Continuous Accounting refers to the process of embedding automation, control and period-end tasks within day-to-day finance activities. Close accounting processes that were traditionally left for the days following the period-end are spread throughout the period, so workloads are more evenly distributed improving accuracy, allowing more time for review, and preventing employee burnout.
If finance and accounting teams switch to this approach they will be able to improve the quality, accuracy and efficiency of their processes as they will no longer have to leave large amounts of work to the end of a close period. This will not only help to avoid common pitfalls associated with the often chaotic period end, but will free up time for the finance team so they can focus on more strategic tasks. The BlackLine Finance Controls & Automation Platform helps organisations leverage Continuous Accounting with modern strategies and cloud technology.
If your finance and accounting team is bogged down in number crunching, has little time to spend on analytics and is unable to access data in real-time, then now is the time to adopt a Continuous Accounting approach to help your business. Read our previous related blog post for the benefits of transforming to a Modern Finance organisation to work smarter and more efficiently.
For further information, call us on +44 203 866 8800 or download the brochure: