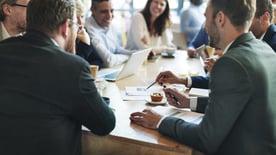 As a group, accounting and finance professionals are considered to be savvy, conscientious, and highly reliable. They're well-respected and considered trustworthy. In fact, in a fall survey of business decision makers, BlackLine found that a full quarter (25 percent) of respondents felt that the CFO has the most trusted role in growing the business.
Accounting and finance pros are also likely to move into higher management realms. A recent Robert Half FTSE 100 CEO Tracker Report noted that 55 percent of chief executives come from a finance background, and almost 25 percent of CEOs hold chartered accounting experience.
But in many cases, especially in organizations that still rely on spreadsheets and manual processes, today's accountants are not fully utilized. They are often unable to contribute to their business' performance in ways more meaningful than producing the obligatory financial statements.
For more and more organizations, that's not enough, according to Susan Parcells, BlackLine's senior director for finance transformation.
"Today's businesses need strategic help from their finance teams more than ever before," she says. "Companies have access to more data than ever before. And they have to move faster because global business and the Internet mean that the sun never sets for many of them."
Automation Frees People
For these companies, process automation is a good first step, since it introduces efficiencies that can accommodate rapid increases in the accounting workload. But automation also frees up resources to help in other areas of the company, such as sales and marketing, HR, and even IT.
"Thanks to process automation, businesses can now look forward to getting the numbers they want on time and with high accuracy," she says. "But what they also need, and what accountants can deliver, is help with translating what those numbers mean to the operations and business people."
Parcells notes examples:
Sales and marketing—A manufacturing company wants to gear up to produce a new product. Accounting can help determine costs, profit point and selling price. Or a new operation wants to expand—should they open a new service center? Where? Accounting can help.
HR—Accounting can help with everything from benefits analysis to performing due diligence on insurance providers by weighing the challenges/advantages for the employees as well as the organization itself.
IT—Accounting can help with purchasing decisions. Should IT consider a cloud solution to replace an older, on-premise enterprise application? An accountant can help weigh the associated costs, showing, for example, what can be expensed immediately, or how the new costs will impact a particular budget.

"We see accounting and finance people used in many ways," Parcells says. "For a new product launch, for instance, it's not unusual for the launch team to include an accountant as an advisor in the process, right from day one."
Solving Problems
Parcells, who ran up to a 15-person accounting group before joining BlackLine, says that organizations often look to accountant-advisors for traits such as critical thinking, problem-solving, and the ability to communicate with operations and business users.
"An accountant-advisor should see a problem and instinctively want to find a solution, even if that's impossible at the moment," she says. "That's a trait I used to value in my team members, and it's one that companies are seeing more and more as new classes of accountants move into the workforce."
For further information on automating finance and accounting processes please call +44 (0)203 866 8800, or download the BlackLine whitepapers: