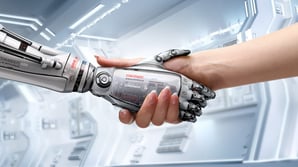 An automated accounting landscape significantly changes the role of the accountant – but not in the way you may think. Many are concerned that technology will eliminate jobs, while in fact, it will eliminate the most time-consuming, manual processes that prevent accountants from delivering the strategy and analysis that drew them to this profession in the first place.
An article from CFO.com predicts that "transactional tasks will move to integrated business services solutions that use robotics, which will automate or eliminate up to 40% of transaction accounting work by 2020. This shift means that finance staff can spend more time — more than 75% of their time, up from 25% today, according to Accenture analysis — on decision support, predictive analytics, and performance management."
Process automation will result far more efficient systems
This shift is a necessary one, as accounting and finance professionals at companies of all sizes are experiencing mounting pressure to do more with less. There is an expectation to provide the big picture of their organisation, and as the amount of financial data continues to increase, so does the challenge of making sense of it all.
Better data informs better business decision-making
Leveraging technology not only improves the efficacy that accountants need to deliver better intelligence, but it creates real-time access to financial data so that reporting and analysis can be done continuously. This provides the relevant, timely data executives need to inform business decisions and develop strategy, along with full confidence in the numbers. It really is the only way forward, especially with the increasingly complex regulatory guidelines and ongoing changes to local statutory reporting.
Automation doesn't replace people it helps them offer more value
Robotic Process Automation (RPA) is not replacing accountants, but evolving their role and augmenting their effectiveness through automation. It is a progressive, positive, and necessary shift that is creating the digital workspace for accounting and finance professionals to focus on the greatest value they can provide to their organization.
For further information on automating finance and accounting processes, please check out the following whitepapers: