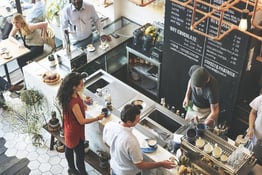 As part of our franchise accounting blog series, we have already explored how franchisors and growing organizations are particularly likely to require functionality beyond spreadsheets and their existing finance system to successfully control royalties. With growing companies, as royalties become more complex, trying to control calculations on spreadsheets is not only inefficient, but leaves no audit trail.
Here at Eclipse, we work with a wide-range of organizations to help them with their royalty account problems and automate the processing of royalties. We specialize working with companies operating in the publishing, media & entertainment and merchandizing industries and most recently, franchisors. A flagship client of ours would be Wingstop Restaurants. They have almost 1,000 locations right now. We replaced a legacy set of spreadsheets and manual schedules and everything else with the Eclipse Royalty & Rights Management System for Franchisor Based Accounting (ERRMS-FBA). The solution is completely push-button, enabling Wingstop to scale to tens of thousands of restaurants. It's just such a seamless process for them now. They're in an excellent position to take advantage of that scalability.
Another organization we work with is Forever Collectibles. It's a fast-growing merchandizing organization and they sell licensed product, things like player Bobble Heads, team apparel or your favorite player's hoodie. We started working with them when they were less than a $1,000,000 in revenue and they're now about $140 million dollars and growing. And so, we've been with them every step along the way.
And then there's an organization like Fathead. A client since 2009, we provide software and services to manage Fathead's complex product royalties. Our ERRMS solution is essential in managing royalty obligations and satisfying license audits for FatHead. We've be working with these clients for a long period of time so we have a strong relationship with them as well.
ERRMS integrates seamlessly with the Microsoft Dynamics GP financial application. Therefore, any organization using GP and manually processing royalty payments could benefit from our solution. For further details, call us on +1 201 746 6255, or check out our solution in more detail: