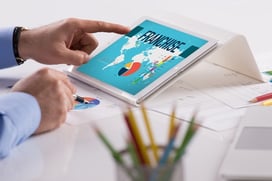 Perhaps when you hear "Franchise," you think of McDonalds. You would be correct, but franchising goes far beyond fast food. A quick check with the American Association of Franchisees and Dealers (AAFD) reveals franchises for sale in:
Food and bars
Florists
Apparel stores
Convenience stores
Child care
Service businesses, including health, hotels, as well as finance, banking, loans, engineering services.

There are even franchise opportunities in internet businesses and some manufacturing. If you've had Servpro clean up a basement flood or had your brakes changed at Meineke, you have visited a franchise, owned by a franchisee and purchased or licensed from a franchisor. You'll find an artisan leather manufacturing franchise for sale in Boulder, Colorado, for $99,000, with a revenue potential of $4 to $5,000 per week (which frankly seems high for specialty goods in a seasonal destination).
Franchising calls for meticulous accounting on both sides, be it from the Servpro franchisee or Servpro itself. As a fast-food franchisee grumbled to us, "Whatever revenue potential you hear, divide by two. Start by subtracting your take-home pay." More successful owners chalk success up to right time, right place; right choice for the economy; and laser-focused accounting.
The Eclipse Royalty & Rights Management System for Franchisor Based Accounting (ERRMS-FBA) has specific franchisor-based features and is based on Microsoft Dynamics GP. It aggregates royalty accounts income from franchisee processes for recording the typical franchise-based income categories. Typical revenue calculations include:
Royalty income
Ad revenue
Deferred income
Loan payments

Once calculations are processed, full integration within Dynamics GP allows automatic capturing of the weekly or monthly revenue streams in a totally hands-free process.
This is the first in a new series of blog posts on franchise accounting, and an extract from the original article published on Microsoft Dynamics World on 26/10/2016. For further information about ERRMS-FBA, visit the solution page, contact us on +1 201 746 6255, or read the managing royalties within franchise accounting blog post: