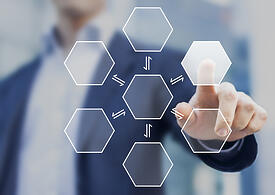 In today's economic climate, organisations are striving to improve operational efficiency to cope with market changes and increasing competitive pressure. To deliver ongoing operational efficiency organisations need to take a proactive approach to controlling their business processes and managing them effectively. This is where Business Process Management (BPM) comes in.
Whilst definitions of BPM vary, it is generally considered a systematic approach to managing an organisation's business requirements. The purpose of BPM is to continuously improve business efficiency through optimising the business processes in place and making those processes more adaptable in a changing environment. BPM is not to be confused with Business Process Improvement (BPI) initiatives, which, according to the BPM institute, '...typically imply projects, or a set of one-time unique improvements in redesigning or otherwise fixing a process'.
BPM solutions leverage the BPM approach by supporting the creation, management and ongoing optimisation of an organisation's business processes. A BPM solution enables organisations to manage the lifecycle of its most critical processes, from design and implementation through to monitoring and control.
Benefits of implementing a BPM solution:
Operational efficiency – Streamlined business processes lead to streamlined operations, with greater visibility and control. The automation of repetitive, low value tasks can also lead to cost savings.
Compliance – All business processes are carried out inline with a company's procedures and process documentation can be generated for demonstrating compliance in an audit.
Competitive edge- A BPM solution ensures that processes drive operational efficiency, business visibility and can adapt to customer requirements, which helps to provide a strong edge over the competition.
Scalability – Automated processes scale much better than manual processes - ideal if an organisation is expanding.
Agility – A BPM solution will enable a company to quickly update its processes in response to developments in its operational environment.
The UXC Eclipse Business Process Solution
At Eclipse we encourage organisations to recognise the importance of actively managing their business processes. Organisations that do not have a good process structure in place may find themselves spending huge amounts of money to redesign bad processes and systems when new requirements arise.
Whilst there are a variety of BPM solutions on the market, Eclipse recommends the UXC Eclipse Business Process Solution. The UXC Eclipse Business Process Solution documents every process and its associated relationships only once, resulting in unambiguous documentation, which is easy to continuously manage and improve. The business process documentation can be customised to an organisation's particular setup/configuration of its existing business management solution, such as Infor SunSystems, Microsoft Dynamics GP, Microsoft Dynamcis AX, Microsoft Dynamics NAV, Microsoft Dynamics CRM.
For further information on the UXC Eclipse Business Process Solution, call us on +44 (0)203 866 8800 or: