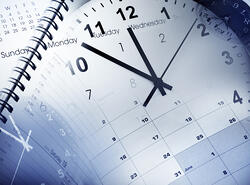 At Eclipse, one of our key objectives is to develop trusted partnerships and maintain close working relationships with all of our clients and one of the ways in which we can achieve that goal is by good Account Management.
So, just what is good Account Management?
For us, it's about really listening to our clients and understanding their needs so that we can work together to help overcome any challenges facing them or the business.
Sounds easy, doesn't it?
And of course it is, all we have to do is arrange regular Account Management meetings with our clients so that we maintain that close contact and understand the issues that they face day-to-day. When we have the opportunity to engage with our clients in this way, it is seldom to hear that there are no challenges facing either them or the business.
In our experience, one of the main challenges that everyone has in today's workplace is a lack of time. When speaking with clients to schedule a meeting, the response, more often than not, is something like, "It would be great to meet, but I'm too busy working on month end'' and ''I don't have the time".
This is a common story, particularly where our contacts are working in the Finance Team and there always seem to be other priorities, whether it is audits, month end, or year end etc. These are all time consuming and often labour intensive activities that increase pressure on individuals and mean that deadlines have to be met.
With ever increasing workloads, Account Management meetings often take a 'back seat'. The irony for an Account Manager is that the clients who are too busy to meet with us are usually the clients who are most in need of our help. The only way in which we can provide that help is to work together with them and our colleagues at Eclipse to provide the best solution or solutions.
And so the paradox continues, "no time", "too busy", "maybe next month, when it's less busy".
In the corporate world today, we are rich in lots of ways but, we are still time poor and time is one commodity we still cannot buy…or can we?
So, if any of the above sounds familiar to you, don't delay that Account Management meeting. We're here to help, if of course you can find the time to let us...
To arrange an Account Management meeting, please contact:
Linda Scott - +44 203 866 8813 | lscott@eclgrp.com
James Waylett - +44 203 866 8811 | jawaylett@eclgrp.com