What is Infor OS?
Infor OS is a cloud platform bringing together business processes and artificial intelligence (AI) to improve productivity in the workplace. Infor OS is 100% cloud based and offered as a subscription-based service, with direct access to the Infor support team.
The Infor OS technology stack includes the latest release of SunSystems linked to Infor Document Management, Infor ION, Infor Ming.le and Infor Data Fabric. We are delighted to share some of the key elements of the Infor OS technology stack which enhance the experience for SunSystems users: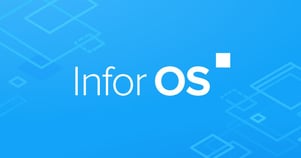 Single Sign-On (SSO) and Enhanced User Experience: Infor OS brings SSO capability enabling users to provide log-in credentials just once in order to access multiple applications. All applications within the stack are seamlessly integrated and are versatile enough to adapt to specific user or business requirements.
➢ How can it help?
Users can create multiple landing pages to suit their specific requirements, including exposing web widgets directly from SunSystems and also providing quick links to other third-party applications and websites. The enhancements that have been made to the navigation and interface in the latest version ensure a more enjoyable and productive user experience.
Infor Document Management: Infor OS includes a fully functional document management system for storing business documents (contracts/statements/sales invoices etc.) and offers customisable indexes. IDM also provides options to directly scan from source, link and retrieve the documents from different applications and workflows.
For example, a SunSystems user can scan in purchase invoices and link to the corresponding accounts payable transactions in SunSystems using customisable attributes. These attributes can be based on SunSystems reference data such as supplier nominal codes, transaction references and/or description fields. In addition to this, files can be directly imported from the user's mailbox.
➢ How can it help?
Documents can be viewed within the SunSystems application when making an inquiry, without the need to refer to physical files or to search a separate storage system. Infor OS also features Optical Character Recognition (OCR) and Intelligent Character Recognition (ICR) technology for complete document capture processes.
Infor Ming.le: Infor OS incorporates Infor Ming.le, the centralised platform for social business collaboration. Here, users can collaborate and share information quickly and easily across an organisation without having to communicate via email. The purpose of Infor Ming.le is to connect business processes to employee communications, to contextualise intelligence and increase efficiency and productivity amongst employees.
➢ How can it help?
SunSystems users can benefit from being able to follow a transaction from start to finish, with alerts sent at various stages, informing the user of transaction status. This could be an update to a record which sends an alert to the next user in the chain about the required action they need to take. Staff have more insight than before and can take appropriate action quickly.
Infor ION Workflow: Infor OS provides enhanced workflow for SunSystems users with ION Workflow. The ION Workflow platform enables SunSystems users to go beyond configuring basic authorisation by creating comprehensive routing and authorisation matrices based on business rules.
➢ How can it help?
Users can create workflows for almost any process in SunSystems. For instance, workflow can be implemented for journal authorisation processes that can include an authorisation stage to review the upload scanned image (IDM) against the journal before it is posted to the ledger. Such workflows not only save time, but also help to remove potential for human error which can occur with manual data processing.
Infor ION Integration: Infor OS integrates with the Infor Intelligent Open Network (ION). In addition to the existing integration tools like Transfer Desk and SunSystems SSC, Infor ION provides additional capabilities to transfer data in and out of SunSystems using Business Object Documents (BODs). Bi-directional data flow can be set up with other applications in the Infor stack, third party applications both cloud and on-premise. ION can leverage any API capabilities third party applications have to offer.
➢ How can it help?
Many of our SunSystems clients have on-premise solution deployments with add-in third-party applications, such as the Professional Advantage Suite of enhancement modules, the Sharperlight Reporting & Business Intelligence Platform, and the Proactis Spend Management solution suite. While Infor OS can be deployed on-premise, for many smaller and mid-size organisations this would be extremely costly and involve significant consultancy time to set up and manage. Our clients can now benefit from a hybrid business solution model by linking the Infor OS cloud operating platform and all its benefits to their on-premise deployment of SunSystems. Alternatively, they can leverage SunSystems Cloud to digitally transform their business in a cloud environment for improved collaboration, enhanced security and a lower total cost of ownership.
Infor Data Fabric: Part of Infor OS, Data Fabric provides cloud native data platform capabilities with features including big data storage and query interfaces. Advanced data management tooling is included to structure data generated by both native and third-party applications.
➢ How can it help?
Data from multiple sources (including SunSystems) can be stored, transformed and distributed to different reporting and data warehouse solutions. It is also possible to leverage this functionality to feed data to visualisation applications like Microsoft Power BI and Tableau.
Why Choose Eclipse for Infor OS projects?
Early adopters: we are early adopters of the Infor OS operating platform. We see the benefits that Infor OS can bring to our SunSystems clients, especially in terms of the additional functionality available to help organisations streamline and enhance their business processes to work faster and more efficiently. Our clients are already reaping the benefits of a hybrid on-premise/cloud business solution model which Infor SunSystems Cloud implementations bring.
Data migration specialists: our experienced and dedicated team have carried out many data migration projects seamlessly for our clients over the years. We are very knowledgeable in helping with any data migration requirements. Our proven methodology reduces risk involved in a project and provides visibility and peace of mind to ensure a successful outcome.
Integration experts: we have deployed both hybrid and cloud-to-cloud integration for our clients. We are particularly experienced in deploying SunSystems integration projects and projects requiring third party application integration using APIs, Azure integration services and on-premise applications.


This is the first in a series of blog posts exploring the benefits of Infor OS and SunSystems Cloud. For further information please call Gary Waylett on 0203 866 8800, watch the video clip, or: