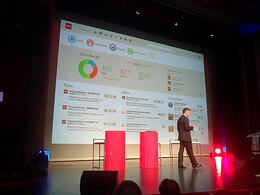 Last week was certainly a busy one with members of the Eclipse team attending both the Infor EMEA Partner Conference in Paris and the Infor on the Road Customer Conference in London. We are excited to provide feedback and share with you some of the key developments that affect SunSystems going forward...
At both events there were presentations given by Infor's senior executive team entitled the 'Office of the CFO' that focused on strategy and the latest technological innovations. President Stephan Scholl unveiled that Infor is the 3rd largest global ERP maker and the fastest growing business software company - 2,300 new customers last year, 3,000 new employees.
We were informed about Infor's branding overhaul – visit www.infor.com and you will notice some significant changes, which result in a much cleaner design. The new look will shortly be incorporated across SunSystems and all of their solutions. The Infor logo has also had a makeover which looks fresh and pleasing on the eye. It is also good to see a return to the simpler 'Infor SunSystems' naming convention.
On to some of the key solution developments, Infor 10x ships in November, with Infor SunSystems (V6.1.5) boasting many new features and will be Windows 8 and SQL Server 2012 certified.
Here is a selection of enhancements that are available or can be added to the core SunSystems solution:
WorkSpace - Delivers a unified user experience that supports single sign-on, common navigation. The user interface combines deep industry processes, analytics, and collaboration that helps you make better and faster decisions.

SocialSpace - A social business platform that shares objectives, captures the conversation and keeps data in context. The Activity Feed connects staff, applications, machines and data in real-time so they work better together. There is an in context application called 'Paparazzi' which allows users to 'follow' crucial business processes.
Mobile innovation - You can access key features in an intuitive tablet/mobile experience. Simply provide your web connection details to connect to your organisation's SunSystems server.

Alerts, notifications and exceptions - You can set up notifications for the events that are of relevance to you, for example the creation of projects, customers and orders received over a certain amount. These are then delivered to you via email or within the Activity Feed, allowing you to proactively monitor your system.


We'll make sure to keep you posted with future SunSystems developments. If you are interested in learning more about Infor 10x or require further information on some of the new features mentioned above, please contact us on +44 203 058 1000, or register your interest here and we will call you back.
Thanks for reading.