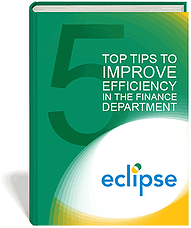 Many businesses have achieved impressive cost savings over the past few years, rationalising processes and streamlining operations to drive out inefficiency and improve performance. However, many financial processes have remained untouched as companies have focused on areas of higher profile, such as distribution, or those with high administrative volumes, such as HR.
At the Eclipse Group we have recently produced a new eBook with a series of top tips for companies wishing to streamline core financial processes. In the eBook we provide advice and guidance on how businesses can utilise the latest technology to improve the management of incoming documents; minimise manual data entry; automate the manual invoice approval process; outlaw the use of outbound paper; and automate the payment process.
Learn how with an electronic document management system companies can further transform efficiency; reduce costs; improve financial control; and get much better visibility into business performance.
Receive a free copy of our eBook, '5 Top Tips to Improve Efficiency in the Finance Department':