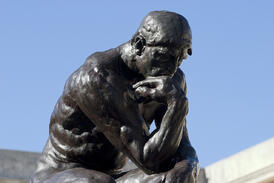 Many department heads are familiar with the "spend it or lose it" mentality when it comes to their budgets, but many will agree that over the past few years this has not always been necessary to follow. The recession forced many companies to cut back on spending, squeezing department budgets and depriving them of the funds needed to make improvements. For most organisations, "band aid" spending has been the only viable option to hold together struggling departments and stave off desperately needed improvements.
For many, business took a turn for the better in 2014. Business picked up and increased workloads naturally followed. Many of our clients had not necessarily expected or budgeted for the increased activity and were unable to cope with the previous year's rationed budget. Those most desperate were issued emergency budgets, which were spent on desperate quick fixes and plugging gaps with temporary staff.
Now that we are in 2015, many businesses have found themselves in one of two categories:
Business has improved to the extent they feel confident in restoring budgets to nearly pre-financial crisis levels.
Business has improved only marginally, but the strain on internal departments is so great that without additional funding they will be overrun.

Economists have predicted that 2015 will have some measured growth, however they still have concerns about the performance of some economies in the eurozone, the slowdown of China's economy, the UK General Election in May and how these events will impact our own markets.
So regardless of what category you find yourself in, what should you be spending your budgets on this year?
Given that there is still uncertainty, many consider that investing heavily in recruitment and personnel is still too risky. And those choosing to continue spending on temporary staff will have little to show in the long run.
The financial crisis affected most companies, creating a "survival of the fittest" scenario. Those who did not adapt and improve fell away. This was also true for the software development sector, knowing that other companies at the time were reluctant to part with their money so they had to develop smarter, leaner, more powerful and easier to use products to entice people to invest with them. The truth is, there has never been a better time to invest in software. There are some exceptional tools in the market today, designed to improve efficiency, visibility and give rapid ROI.
Here at Eclipse, we search through the marketplace, visit numerous software developers and hand pick the "best of breed" business management products, designed to sit comfortably and integrate seamlessly with other solutions. We also make sure that the tools we select are easily scalable and can comfortably grow or recline with a client's requirements.
We regularly hold a range of events on our financial management solutions, which help businesses streamline processes in and around the finance function. Why not take a look at our upcoming events.
Alternatively, feel free to reach out to us if you would like to discuss possible ways to help your business become more efficient, we would be more than happy to have an informal chat with you:
Linda Scott - +44 845 258 4311 | lscott@eclgrp.com
James Waylett - +44 845 258 4337 | jawaylett@eclgrp.com