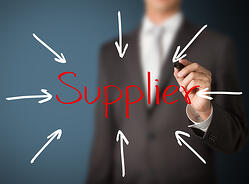 Many organisations do not have a single view of their supplier base. It is all too common for supplier details to be incomplete, duplicated and out-of-date. There are often inconsistent or non-existent supplier qualification and review processes. Extensive time and effort is required to recruit and on-board new suppliers and carry out reviews. Furthermore, supplier communications are generally carried out through manual means, such as fax and email.
It is every procurement professional's dream to have a quality supplier base with complete and up-to-date information. An accurate supplier base would not only provide a broader and better rationalised pool of suppliers, but also lead to improved supplier policy compliance. It would also deliver increased savings from greater capacity for sourcing, reduced disruption from non-performance, reduced cost of liabilities caused by non-compliance, increased savings from negotiated prices and reduced cost of admin support.
So how can a company improve the accuracy of its supplier base?
A central supplier directory – this includes a directory with complete, accurate and up-to-date supplier information.
Standardised processes – the processes for supplier recruiting, qualification, adoption and review all need to be standardised to ensure consistency, reduce supplier risk and form stronger supplier relationships through easy and effective interaction.
A cloud-based supplier portal – this streamlines supplier communication, removing the time consuming manual interactions that take place.
Here at Eclipse we partner with PROACTIS to provide a best-in-class Supplier Management solution that enables procurement teams to build and maintain a strong supplier base by structuring and streamlining the entire supplier lifecycle - from initial identification through adoption, approval, transacting and analysis. This is also achieved with supplier management best practices as outlined in the steps above.
For more information, feel free to contact us on +44 203 866 8800. Alternatively, download the 'Jump-start Suppliers Guide' for details on how to quickly, easily and cost-effectively improve the accuracy of your supplier base with PROACTIS: