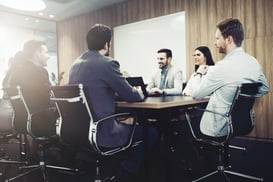 An organisation's strategic initiatives are often triggered by change, whether this is related to new competition, stock price, growth, a merger or acquisition, regulatory changes etc. A trigger for change can, of course, vary based on an organisation's circumstance as well as industry sector.A financial services organisation is likely to be facing issues around regulatory changes, with increased pressure to ensure transparency and accuracy for the sake of their profitability, reputation and longevity. A public-sector organisation may be facing challenges and a need to change as budget pressure continues, alongside increasing expectations.
When changes and business challenges occur, organisations need to adapt to stay competitive
Senior staff within organisations become the agents of change, may it be the CEO/CFO/CIO/CPO etc. The agents of change analyse key areas of the business from financial performance and operational performance through to regulatory compliance, risk exposure and strategy.
Strategic initiatives within an organisation may involve anything from a re-organisation of the company due to a merger, an acquisition etc., to the deployment of a new finance or business management solution, or business process transformation. Organisations who link spend analysis with spend control actions to their strategic initiatives can make a big difference to their bottom line. It is about understanding the linkages between what is driving the need for change within an organisation, an organisation's strategy for change and the tools required to enact the change.
Often business leaders have the goal of positively impacting critical areas of their operation which requires strategic changes
If an organisation's strategic initiative is to transform business processes to reduce costs, improve efficiencies or reduce risk, these goals can be aligned to specific spend control actions. This can deliver improved control and visibility of spend, streamlined supplier interaction, improved accounts payable efficiency and reduced supplier risk.
By implementing specific spend control initiatives and deploying the solutions needed to reach the strategic goals companies in all business sectors can reduce cost, increase responsiveness, increase throughput, increase agility, reduce risk and ensure compliance.
For further information on how to make a difference to your bottom line by aligning your spend control actions to your strategic initiatives, have a browse through these whitepapers: