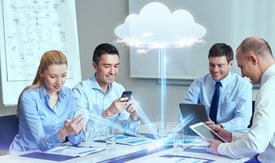 Cloud computing is now firmly established in the enterprise computing landscape. IDC, the analyst firm, predicted a compound annual growth rate of 22.8% by this year (2018), which is about six times the rate of growth for the overall IT market. But many companies find themselves excluded from the cloud revolution because they are economically, operationally and technically shackled to inflexible and highly customised legacy systems.
Interestingly, small companies (500 or less employees) and large enterprises (5,001 or more employees) have the highest adoption rate of cloud strategies at 40% and 35% respectively. Of course smaller enterprises are less encumbered by legacy technology, rigid and unyielding processes and layers of management that make decision-making cumbersome, slow and unwieldy. For them, a shift to the cloud represents relatively few barriers. And although large enterprises generally have complex systems architectures it seems that they have sufficient financial clout and skills to devote to a cloud migration.
While it's fairly simple to see how the businesses on either end of the spectrum are behaving we must find out what's happening in the mid-market
Mid-sized businesses, especially those enjoying rapid growth are in a more testing environment. Management and other resources are stretched, they may not have breadth and depth of IT skills in- house and their processes are likely to be under pressure and not completely evolved. Yet the mid-market has many unique strengths. Quite often the business is still driven by the energy, vision and entrepreneurial skills of the founders and their decision-making is more responsive than their larger contemporaries. In other words they are imbued with an agility that larger businesses find difficult to emulate. And ironically it is the preservation of this agility that makes the move to the cloud so compelling. If mid-sized companies are to maintain their upward trajectory they need the flexibility and scalability that the cloud confers.
Companies who want to operate with cloud solutions but face obstacles are embracing hybrid systems
In an effort to accelerate their move to the cloud and side-step the limitations of the on-premise world many organisations are looking to so called hybrid solutions that enable them to build a bridgehead in the cloud while phasing out their dependency on legacy systems. This halfway house is proving extremely popular and is driving a renaissance in the best of breed approach where companies choose cloud-based solutions to fill in the gaps where traditional on-premise systems such as ERP and performance management have failed to deliver. Applications such as reconciliation, inter-company processing and compliance quickly spring to mind.
SaaS can assist companies with migrating to cloud-based solutions
Furthermore, the SaaS (Software as a Service) model confers many financial, technical and operational advantages, such as, the supplier taking on responsibility for maintaining, operating and upgrading software, license fees that are on a subscription basis and the relative ease of migration. And although, it is larger, well-resourced enterprises that are paving the way to the hybrid approach mid-market companies are sure to follow hard on their heels. That's because a hybrid approach based on a Best of Breed ideology allows mid-market companies to transition to the cloud in a purposeful and low risk way while allowing them to retain the agility that makes them successful.
To find out more about cloud-based solutions to suit your business needs get in touch.