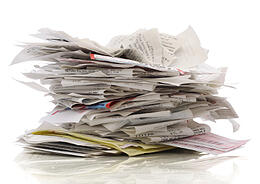 It is surprising that in today's business environment, especially amongst large workforces, that many organisations are yet to implement an expense management solution to automate the processing of employee expenses. With employees continuing to rely on old-fashioned spreadsheets and other manual methods of submitting expense claims, they are wasting valuable time and effort. Not only this, but it is not uncommon for employees to submit claims that accidentally (or otherwise) bypass corporate guidelines. This can be controlled to enable allowable expenses for employees to be authorised using an automated employee expense management solution, where policies and guidelines have to be adhered to.
For companies that switch from manual employee expense claims processing to an automated system, the benefits are significant: streamlined processes, greater visibility, effective spend control, compliance and much more. Check out our, '5 Reasons to Automate Employee Expenses' blog post for a run through of all the benefits to be gained through automation.
Here at Eclipse, we have been helping organisations to leverage employee expense management solutions since 2001. Before selecting a preferred employee expense management solution, we work with organisations to understand their specific business requirements to ensure a functionality match, as well as look for a solution that can achieve the company's immediate and future goals, as the organisation grows and adapts.
Key features and functionality that we recommend organisations to look for in an employee expense management solution selection process include:
Flexible hosting options - look for a solution that provides a cloud offering, as well as an option for the solution to be configured to run on your own network. A cloud-based solution may provide flexibility and eliminate infrastructure costs.
Flexible licencing options - it is useful to have a choice as to whether you want to purchase the software outright, or rent/lease it on a 'per user per month basis'. The former is typical more cost effective beyond 24 months, whilst the latter avoids upfront expenditure.
Remote access – it helps if the system can be accessible from any location, even if installed on your local network. This enables employees to complete their expense forms anytime and anywhere.
Mobile/tablet support – a modern solution should provide full mobile support – again, this especially useful for employee not tied to their desks.
Multiple languages & currencies – if you have employees in multiple countries with different currencies, policies, tax treatment and language requirements, it is important the solution can handle these needs.
Finance system integration – it is helpful if the solution can populate your finance system (or other systems such as payroll) with employee expense transactions as it saves manual updates.
HMRC compliance – check if the system can manage VAT and P11D requirements.
Policy enforcement – enforced corporate guidelines and expense rules are a must to help avoid employees 'fiddling' with expenses.
Credit card imports – it is useful to be able to import transactions from the leading credit card providers and present employees with an individual credit card statement.
Receipt attachment – it helps if employees can attach electronic copies of their receipts to their claims.


To find out more about automating employee expenses, call us on +44 (0)203 866 8800, or download the, 'Choosing an Expense Management System' whitepaper: