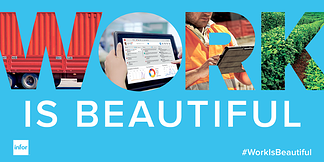 Many traditional financial management systems lock organisations in to rules and structures that are unable to adapt to changing requirements. They can be inflexible, ageing, cost prohibitive, hard to maintain and overly complex. In today's business environment, organisations need to easily redefine their systems and respond to changing requirements anytime, anywhere, in order to innovate and stay competitive.
Infor SunSystems is a leading financial management solution, which provides companies with the flexibility they need to adapt as their business grows and evolves. Powered by technology that is visually appealing, infused with fresh thinking, easy-to-use and designed to speed performance, companies can wave goodbye to dull, complicated, disorderly and inflexible financial management applications.
Infor SunSystems is crafted around how organisations work; providing great user experiences that meet the needs of an organisation's particular business situation. Organisations can change and improve the way work gets done via:
Social collaboration tools – social business technologies enable organisations to create a centralised space for communications, making information that previously got lost shared, accessible and auditable.
Enhanced mobility - the solution can be accessed via an iPad or other mobile devices, offering flexible working arrangements.
Deep industry-specific functionality - the solution offers specific functionality for a variety of industries, enabling it to be used in over 100 vertical markets.
An intuitive user interface - the smart user interface provides a clean look and feel and is extremely user friendly. Designed to increase productivity, users can easily find information relevant to their business role. There is also a facility to deliver data automatically to the user via messages and alerts.

Through leveraging such functionality, companies can improve decision making, respond proactively and increase collaboration to work more efficiently both now and in the future.
To find out more about Infor SunSystems, call us on +44 203 866 8800, or register for our upcoming webinar on Thursday 12th March 2015: