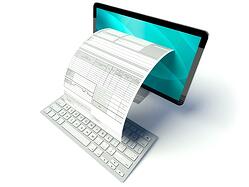 It is fair to say the PROACTIS Purchase to Pay (P2P) solution has come a long way since its introduction in 1996. The latest release, v14, is extremely comprehensive and contains many enhancements across the P2P board, from the Purchase Authorisation and Invoice Receipt modules, through to Invoice Processing and Employee Expenses. There is more integration with Source to Contract (S2C) modules and new functionality and fine tuning to bring greater efficiency.
Here is an overview of the general enhancements in PROACTIS P2P v14, as well as some specific new features:
An enhanced user interface. There is a new UI across the whole of the solution. There are larger buttons and fewer menu items options, making the solution easier from a usability perspective. There is also an option to change the colour theme of the application.
A new search entry page. P2P 2013 clients will know that there is a mini search box in the middle of the purchase orders and requisitions pages. There is now an optional search screen over the top of that. This is a multi-source search to find items, for example it can look at contracts in the P2P module and the Contract Management module and pull content from those sources and bring it back into one place.
Multi-browser support. P2P v14 is supported for IE 9 upwards and Chrome and Safari are also now supported.
Changes to Requisitions. There is a new optional Tabbed Line Entry in Requisitions. There is still multi-line entry, but information on supplier, coding, comments etc. is displayed in separate tabs. This makes requisition screens easier to use, but the functionality remains the same. Furthermore, PROACTIS 2013 clients should be familiar with the option to have Commitment Report project graphics within POs. This functionality has been added to Requisitions so when new requisitions are created a budget check can be specified at point of submission, which in turn creates a Commitment Report. This displays a graphic with details such as, which budget is being affected, or the impact of a particular requisition.
High Priority Orders. This feature enables users to flag particular orders as high priority. It can be set up for key users who may be in an emergency order situation. Configurable reasons can be set up as to why the order is high priority.
Comments and Attachments can be added to invoice lines. This gives a greater level of detail, especially on the approval side.
Line Discounts in Invoicing. A flat rate discount can now be applied to all lines within an invoice.
Summary Message Groups. Dashboards were introduced in P2P 2013 and in v14 they are improved with summary message groups, which make sure information, such as authorisation tasks are grouped accordingly and easier to read.
Funding Requests. This new feature provides users with the opportunity to create a project plan to gain permission to spend funds in certain spend categories. An approval workflow is set up, which at the end automatically creates a project code.
Quick Quotes. Users can now generate a short Request for Information (RFQ) that can be sent to suppliers through PROACTIS. Supplier responses are received back into PROACTIS electronically. Supplier quotes are compared to what is in P2P and then a PO can be generated for approval on the back of the chosen supplier.
Upgrading to the latest release will not only optimise an organisation's investment in the P2P software, but it will also result in an increase in spend coverage, improved visibility and streamlined processes.
For further detail on any of the above, or to find out about additional functionality specific to certain P2P modules in v14, call us on +44 203 866 8800.