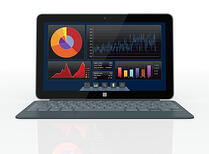 We are very pleased to get our hands on the new web demo platform for the Sharperlight Reporting/Dashboard/BI tool, which can now be accessed via our website.
Since we added the Sharperlight reporting and business intelligence tool to our solution portfolio earlier this year, we have been struck by its simplicity, speed and unparalleled reporting capabilities. The solution allows data capture with rapid analysis and drill down, plus a simple to use query engine, over single, or multiple systems simultaneously. Empowering the end-user is key to Sharperlight; it provides simple tools so users can manage their own reporting needs in a self-service fashion.
Benefit from:
Short timeframe implementation
Increased accuracy
Enhanced decision making
Time and money savings
More proactive staff
The demo system is based on a pre-defined dashboard and has full selection, extract and drill though capabilities that will provide you with a really good look and feel for the solution and how it works. However, to really do Sharperlight justice, we strongly encourage you to contact us to arrange a personal presentation of the product where we can provide you with a comprehensive understanding of the solution's features and benefits. Please call +44 (0)203 866 8800 to gain access.