We recently completed a project with one of our international insurance clients to upgrade their core finance system to the latest version of the software. An upgrade project may on the face of it sound relatively straight-forward, but there are a number of key variables that can have a considerable impact on the potential project timescales and costs. These may include:
Offices in multiple locations / multiple time zones
Integrations between the system to be upgraded and other business-critical systems
Customizations to the core product or reports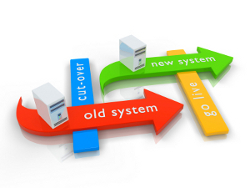 In this particular project, all of the above scenarios applied and were further complicated by the fact that one or more of the integrating systems were managed by third party vendors outside the UK. This is actually not that an unusual situation for companies in our industry and certainly something we come across on a fairly regular basis.

In every project (or at least those in which I have been involved) the ultimate success of the "Go-Live" is dictated by the degree of planning and preparation that goes into the upgrade.
Planning for this upgrade actually started in October last year when we began to scope out the requirements of the project. One of the key challenges was to establish an effective line of communication between all parties involved in the project. The core accounting solution is integrated with two business-critical insurance systems that our client uses to handle underwriting claims, policy management, claims payments and loss prevention. Support for one of the insurance systems is provided directly by the vendor who is based in Belfast, whilst support for the other system is provided from Malta. We had a number of Eclipse consultants involved in the upgrade project, but in fact were able to remain fairly compact with no more than two dedicated resources at any one time required, again as a result of the way in which we planned the project phases. There were also internal IT resources from within our client's IT department involved at key points in the project.

Go-live planning may in fact start as early as the sales stage and preparation is key – we use tools such as upgrade questionnaires and infrastructure assessments to build the upgrade proposal, help set client expectations, but also to involve the customer and any other third parties from day one. It sounds like a statement of the obvious, but knowing what you're up against from the start can certainly help in mitigating potential risks further down the line.
Another cliché is 'expect the unexpected'. The go-live plan is an evolving document and the scope of the project may well change once underway. This should be taken into account and you may need to re-plan some aspects of the upgrade.

With any upgrade it is almost inevitable that there will be an element of systems downtime during the 'Go-Live' phase. This may or may not need to happen during business hours, but when the client has some employees spread across multiple time zones there may never really be a good time to take all of the servers for multiple systems down. Our job is to minimise the amount of downtime and set clear expectations with the client, giving them a very accurate picture of exactly how long they could expect their systems to be offline.

Our 'Go-Live' plan outlined clear roles and responsibilities for all parties, showing what needed to be done, by whom and by what date or time – and we ensured that there was on-going collaboration and communication between the Eclipse team, the third-party vendors, our client's internal IT team and their users, to keep the project on track.

We also performed a number of dry-runs on various aspects of the systems upgrade so that we could time each stage of the roll-out and ensure that our ball-park estimates were accurate. By taking this approach, it ensured there were no hidden surprises when it came to 'Go-Live' weekend. Dry-runs give the consulting team and more importantly the customer the confidence that the upgrade will succeed.

The scenario described above, whilst not necessarily the norm, is nonetheless a common one for Eclipse. This means we can draw on our experience of what has worked well in the past and build on this for future engagements. We have developed project management methodologies and processes that are tried and tested. The objective is always to take all (or as much as we can) of the responsibility and worry away from our clients by taking the lead on the project and managing the roll-out on their behalf, co-ordinating and communicating with all parties and stakeholders, whilst ensuring a pain-free transition to the new systems, on time and within budget.
If you would like to discuss upgrade projects please get in touch with me on +44 203 866 8800, or send me an email and I will be happy to discuss your requirements.