Why Spend Control?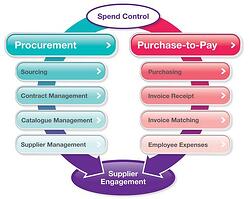 In the current business climate, aggressively increasing your company's revenue isn't easy. However, there are ways to increase profitability without risking your core business operation or by taking a calculated risk by increasing your sale prices. One of the best ways to decrease excess costs is by implementing an effective Spend Control system. This can lead to rapid savings for your business by:
Obtaining favourable terms from your suppliers through increased contract compliance.
Enforcing an on-going policy of cost and risk reduction.
Efficiency gains from faster, automated business processes.
What is Spend Control?
Spend Control involves a combination of inter-related activities. These include Procurement functions such as supplier and contract management, and Purchase-to-Pay activities from generating and authorising purchase requisitions through to purchase order placement, invoice processing and payment authorisation.

What problems does it solve?
Businesses that do not have effective Spend Control are likely to be losing money in some of the following ways:
"Maverick" spend – whereby employees buy items or services outside of the approved process, typically resulting in items being purchased ad-hoc with high premiums on purchase order costs being paid.
Using a wide range of suppliers, thereby failing to identify those who can best serve the needs of the business and negotiating favourable rates from them.
Failing to implement a proper process for comparing and selecting suppliers.
Using inefficient, unreliable and time-consuming processes which are typically manual and paper based.

Spend Control solutions
A Spend Control solution broadly consists of two essential components:
Procurement – This includes tools for standardising, streamlining and tracking the entire process of supplier sourcing, from producing requirements specifications, through to issuing electronic tender documents, scoring of responses and ultimately awarding contracts. A catalogue management application may provide a centrally managed, content rich catalogue with comprehensive search facilities giving consistent information across all suppliers.
Purchase-to-Pay – A purchasing solution streamlines the process of purchase approvals and provides a user-friendly tool that employees will readily adopt as the standard method for purchasing goods and services. Invoice matching and processing functions automate the payment authorisation process, thus allowing the majority of invoices to be processed with no need for manual intervention. Detailed reporting capabilities may also be included to provide full visibility to management of where money is being spent and by whom.

Although either of these components may be implemented independently, they complement each other perfectly in that the Procurement system can make supplier and catalogue information immediately available to the Purchase-to-Pay system, while the latter can provide accurate spend data to the Procurement system, thus enabling those who make the supplier engagement decisions to see the results of their efforts and negotiate even better terms with their suppliers.

A first class Spend Control system will soon prove its worth. Research by leading consultancies has shown that companies are reporting cost savings of 5-15% even in the first year after implementation.

Feel free to check out our solutions page for more details of our recommended Spend Control solutions.

For further information, or to discuss your Spend Control requirements please feel free to get in touch: