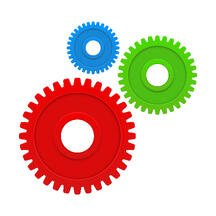 Following on from our previous post entitled, 'Getting Your Head Around Spend Control', we take a closer look at Procurement. To recap, Procurement is one of two main components of Spend Control and incorporates methods for standardising, streamlining and tracking the entire process of supplier sourcing. In the current economic climate, it is vital for organisations to conserve resources and reduce costs. One of the best ways to streamline operations is to automate Procurement. Through effective Procurement, issues such as inconsistent puchasing processes and maverick spend can be avoided.
Automating the Procurement process
Automating Procurement can include reviewing and improving a number of processes, both within and external to an organisation. An internal strategy could involve looking at rearranging, improving and automating processes inside the business, including; how contracts are coordinated with project scope, budget, and schedule; items to be procured with justification statements and timelines; indirect spend analysis or how multiple suppliers will be managed if applicable, amongst other activities.
The most convenient method for many organisations looking to achieve effective Procurement and gain a fast path to value is via Strategic Sourcing. Through taking an external approach and reviewing suppliers, specific sourcing groups can be tested and reviewed with a goal to reduce costs and improve efficiencies.
The entire sourcing and contract management process can be automated with an eProcurement solution. Scalable, to any size business, an eProcurement solution can automate the buying cycle and improve the management and tracking of spend operations. Please visit our solutions page to find out more about the procurement software we recommend. Furthermore, implementing an eProcurement solution can lead to a number of quick business benefits.
Business benefits of automating Procurement:
Reduced costs - a selected group of suppliers identifies those who best suit the requirements of the business and favourable rates can be negotiated.
Reduced processing time – increased automation of internal processes replaces time-consuming manual intervention.
Improved supplier relationships – using contract volume information to negotiate better prices and services.
Increased productivity - goods and services can be procured quicker with an automated system and therefore more cost effectively. The electronic capture of information within an automated system encourages smarter decision making.
Adherence to corporate regulations - manual processes are open to error and abuse. Through automating Procurement you can ensure compliance to regulations and corporate standards.
To succeed in Procurement, an organisation must be able to achieve substantial immediate savings, but also have a plan in place for the future. This requires combining internal and external Procurement processes such as those touched on above. Implementing an automated solution can leverage these processes and the rapid business benefits would soon result in a positive ROI.
To speak to us for advice on automating procurement in your organisation: