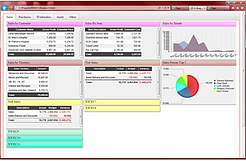 We recently added Sharperlight, an easy to use, agile reporting framework to our solution portfolio. We are excited to present this solution to our clients and prospective clients as this is a tool that can be quickly implemented, at low cost, with little risk to the business.
Sharperlight brings a wealth of business benefits that organisations simply can't get from other reporting solutions on the market. Through its rich functionality and flexibility, Sharperlight transforms reporting into business intelligence.
Here are 10 ways that Sharperlight can improve your reporting process:
Access multiple data sources to get a full picture of what's happening in your business


Report from multiple business systems within a single report, such as a finance system and an operations system, via a DataModel - a dynamic abstraction layer. You can also report from on-premise and SaaS applications at the same time.

Obtain information quickly and easily to make fast, accurate business decisions


Using the Query Builder, the common user interface, you can drill down and drill through to the source data, making it easy to access information. Data is rapidly acquired, then can be shared and discussed. The slice and dice functionality is particularly useful when the auditors visit as you can quickly find the data required.

Access data in real time for up-to-date information


Gain real time access to your data, with just an internet connection. The Sharperlight WebChannel provides users with web browser access to Sharperlight content without the need to install desktop applications. This feature is of particular benefit at month-end as you can re-run reports in real time, so you no longer need to wait for (overnight) refreshes of the data.

Carry out self-service reporting to reduce the workload for IT


Reports can be created in a few minutes in the hands of end users without technical skills; however, IT/specialist report developers can still control and oversee the report delivery if required.

Access a variety of technologies to securely deliver content over the web
The Query Engine can securely deliver content over the web, as Reports, Charts, Pivot Tables, Dashboards and Mashups.
View information that was previously inaccessible to gain greater insight


Report details can be followed directly back to the originating system; right down to the individual transaction level.

Easily define write-back logic, validation and rules to seamlessly bulk load data into your operational systems, reducing time and effort


Write-backs are available as web data entry forms in the WebChannel and from within the native Microsoft XL add-in, data can be bulk loaded into the chosen operational system.

Accurately project future costs to improve operational efficiency


Future costs can be accurately projected and daily tracking of costs vs. budget is easily set up.

Cut down on the number of reports produced to increase productivity


Reduce the number of reports produced and streamline and centralise reports to avoid duplication and rework.

Enhance existing BI strategies without creating new ones


The solution can fit into and enhance any existing BI strategy and grow as business requirements evolve over time, so organisations no longer need to stick with an inflexible, one-size-fits-all strategy.
All in all, Sharperlight provides simple tools that really empower the end user, making it easy to access data, at the right time and in a format that can be easily distributed.
If you are interested in how Sharperlight can transform reporting for your organisation and would like some further information, please contact us on +44 203 866 8800, or: