The secret to business success is to establish a consistent, reproducible business process through the identification of tasks in a process and then refining that process and replicating it as widely as possible. Most software dismisses the most variable, error-prone elements of business processes - those performed by people. Strong technology can ensure that routine human tasks are always completed consistently and reliably.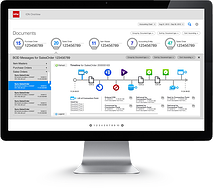 Infor ION Workflow & Events, an integral part of the ION integration framework, creates a seamless flow between your business software and the activities of your employees, suppliers and customers by putting you in control of workflow management. Track the performance and completion of routine tasks to ensure that all work is completed correctly and on time.

With Infor ION Workflow & Events you can:
Design workflows in a simple flowchart view, making it easy to create even complex workflows and refine them whenever you want.

Quickly reproduce workflows between different sites to ensure consistency throughout your business.

Detect events so you are aware of potential problems before they arise.

Make your own rules by detecting exceptions based on business rules that you define and set automatic alerts to the appropriate people in the organisation.

Monitor service levels to ensure that you meet your performance levels and maintain a high level of customer service.

Automate approvals via simple or sophisticated workflows to automate document routing and approvals across departments and office locations worldwide.
Refining business processes with Infor Workflow & Events leads to:
Streamlined operations.

Work completed correctly and on time.

Improved performance levels.

Better service.

For further information on Infor ION Workflow & Events, please contact us on 44 203 866 8800 or: