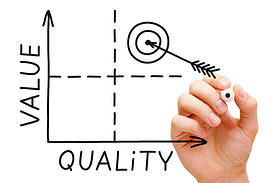 The process of sourcing a 'best value' supplier for many organisations is slow, cumbersome and inconsistent. Lots of administrative manpower is often required and the steps followed to identify the appropriate supplier are not always carried out in a consistent manner and often does not comply with organisational or regulatory standards.
In order to find and select a best value supplier, procurement professionals need to consider factors such as, value, quality amd service and risk to the business. Organisations need competitive sourcing events that are efficient, repeatable and transparent. The benefits of improving the sourcing process are significant. They range from, reduced cost of supplier non-performance and non-compliance, as well as reduced administrative costs and savings from better agreements, through to improved organisational productivity, agility, compliance and transparency.
To help select a 'best value' supplier, organisations should consider the following means:
Standardised process templates for various types of sourcing events
Standardised electronic document templates combined with automated processes for collaborative development of detail questions, requirements and selection criteria
Electronic supplier communications to streamline RFx posting, retrieval and submission, as well as invitations to participate and 2-way communications
An eAuction platform to run successful real-time reverse auctions for appropriate purchase categories
A solution such as PROACTIS Sourcing, part of the Source-to-Contract solution set, enables organisations to leverage such activities. The solution provides a flexible, collaborative and efficient method for electronically developing, publishing, accepting responses to and evaluating all types of requests to suppliers such as RFQs, framework agreements, reverse auctions and complex Official Journal of the European Union (OJEU) tenders.
For more information, feel free to contact us on +44 203 866 8800. Alternatively, download the 'Sourcing' guide on our Jump-Start Guide page for details on how to quickly, easily and cost-effectively improve your supplier base with PROACTIS: