Time waits for no one. It's amazing to think that we've already reached the year 2018, just two short years from 2020, and a very long way from the good old 1990's when Palm Pilots were the trapping of only very important business people.
With some startling, astonishing, and in some cases disturbing (here's looking at you android Sophia) technological advancements, life has become quite convenient. We've become utterly dependent on tech that powers our homes, drives our transportation and organises, schedules and automates our businesses.
The Future is Now: The role of finance systems in business
Looking at the modern mobile phone, it's evident that we're obsessed with technology and the convenience of all-in-one solutions. With each mobile upgrade, your smartphone becomes more integrated with your daily life. Even to the extent of it controlling nearly every aspect of it, right from the palm of your hand.
This obsession is clear in the business world too. When business automation and reporting can be completed from a single tactile system, company personnel spend less time having to carry out these mundane and repetitive tasks which can be managed by the system, leaving your staff free to work more productively.
A once-off capital outlay to purchase an ERP (enterprise resource planning) solution, BI (business intelligence) tools, and/or various other financial software solutions; means businesses can enjoy a substantial saving of both time and money. This trend is clearly here to stay, and service providers are committed to creating upgrades to their offerings that provide customers with more intelligence and agility.
With so many companies lining up and embracing the benefits of ease, convenience, expediency and agility that next-gen systems afford, it's shocking to see that there are still significant groups of businesses that cling to their legacy system for dear life.
If you're one of these businesses that refuse to upgrade your financial software solution, ask yourself, "How can I expect my current financial system to compete against that of the competition? And how can I expect my business to grow if I'm not adequately facilitating that growth?"
As great as your mobile phone was in the late '90's, you surely wouldn't swop it for your current smartphone, so why should your business software be any different?
Many modern businesses recognise the need for upgrades. If you're not heeding the call of advanced- technology business solutions, you're at risk of losing your competitive edge and possibly, customers. Answering questions like these is vital to helping you understand why so many modern businesses are eager for the latest upgrades and trends. Business trends for 2018 indicate that your financial systems be:
Optimised for Mobile
Frequently upgraded and updated to the latest version (to take advantage of latest technology and enhancements)
Best of breed systems whether from separate vendors or not
Operating off scalable hardware
Sure, many (now outdated) legacy systems can still be kept alive by introducing a flurry of BI add-ons, but this only prolongs the inevitable. Many of these add-ons result in your company operating off disparate systems which offer up silos of data that then require integration. This solution is often more trouble (read more time and money) than it's worth.
Older systems just aren't scalable, and the few that are only feature limited functionality. Emerging financial systems prove time and again that upgrading to a more relevant platform provides an accurate, compact solution for businesses who want to evolve. Your old system has had its time in the sun. It's time for change.
Introducing SunSystems from Infor
SunSystems from Infor is a financial software system that's earned its stripes by being a dependable system that businesses have relied on since the 1980's. Never shy to admit that things could be better, Infor has systematically upgraded SunSystems over the years to reflect improvements in technology and align itself with the growing needs of businesses.
SunSystems V6.3 is the latest exciting iteration of the popular financial system and offers up a host of new features. These not only improve upon an already impressive platform but the key features effortlessly keep up with the latest business trends and place emphasis on scalability, flexibility and freedom.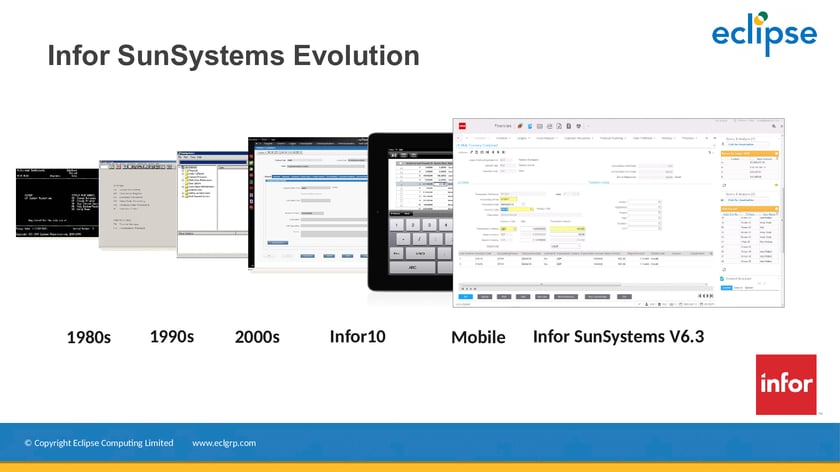 Version 6.3 runs on the Infor Xi platform, which includes ION, Ming.le, homepages, IDM, and other components which deliver improved system administration, greater application integration, enhanced collaboration and analytical capabilities. Let's take a look under the hood of the new SunSystems update:
SUNSYSTEMS V6.3 CORE ENHANCEMENTS
New Static Data Onboarding:
The new version allows for the control of onboarding new static data (chart of accounts, analysis codes, assets, etc) where reference data can be automatically created as drafts and cannot be used in processing until reviewed and approved.
Withholding Tax:
This new functionality has been incorporated into the core solution with the express purpose of managing multiple tax types and exemptions.
Improved Multi-Currency Functionality:
You can now review Currency Rate Types with enhanced controls for use with Ledger Entry/Import, Ledger Revaluation and Payment/Collection runs.
Increased Usability:
Usability improvements have been made to configuration management, business unit administration, performance, scalability and web-enablement.
Enhanced Homepages:
Information can now be consolidated into a single source and offers personalised tools that allow users to work as efficiently as possible.
SUNSYSTEMS V6.3 NEW FEATURES
Infor Document Management (IDM):
Using IDM SunSystems clients can contextually attach and view documents of any kind to any record they're working on. IDM means that there's a stable platform for document collaboration, document repository and archiving which helps with ensuring compliance audits and integration of complex documents from different sources. The results mean providing secure storage and increased productivity.
Requisitioning:
SunSystems allows clients to create a purchase requisition within the system Ming.le and IDM, so context gets added directly to requisitions.
Customer and Supplier Web Portals:
Suppliers and clients can securely access details of invoices, orders, inquire on balances, and print and save copy invoices via an open framework web portal. This portal provides access to SunSystems information without having to be a SunSystems user. Initially, this feature will only be available to V6.2 and V6.3 users.
Positioning itself as the latest and most complete solution, SunSystems V6.3 will launch your business into the future and remodel your financial, sales, purchasing and inventory strategies. With over 30 years of experience providing service to more than 9,000 customers in 190-plus countries, Infor's SunSystems is no fly-by-night solution.
Some of the biggest reasons businesses don't upgrade is out of fear that updating their system is a labour intensive task, takes a great deal of time, and requires a large budget. The good news is that this doesn't always have to be the case.
We're here to help you usher in an exciting new financial solution to your system strategy and facilitate your implementation or migration to the latest SunSystems version. Get in touch with us about transitioning and futureproofing your business today.
Still unsure about how SunSystems can bring your financial system up to speed? Register below to join our webinar where we outline the V6.3 features as well as discuss the implications the latest upgrade will have on previous version owners, and the financial software landscape as a whole.