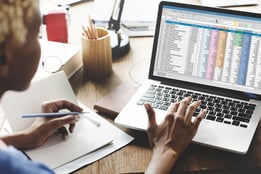 As your organisation grows and evolves and your business requirements change, is your accounting system struggling to keep pace?
No matter how many years you have had your existing accounting system in place, if you are experiencing any of the following issues, then this could be a sign your solution is struggling to keep up with your business:
Heavy reliance on Excel to produce reports – in order to produce management reports you create complex Excel spreadsheets that require data to be manually re-keyed. Eliminating the need for re-keying data would not only improve efficiency, but also avoid reporting errors such as over typing formulae, keying in incorrect values etc. Furthermore, ad-hoc or period end reporting can be completed in minutes rather than days or weeks.
Limited analytical capabilities - your system does not have the in-depth transactional analysis capabilities required to enable management or ad-hoc reporting to be produced at the required level of detail. Your system has no drilldown/slice and dice functionality. The ability to access more detailed information would enable business managers to make fast and accurate business decisions.
Limited integration capabilities - there is no automated data import capability and transactions from external systems are manually posted into the accounting system. The ability to upload data from external systems (invoicing, banking systems etc.) with an automated data input capability would save time and reduce the risk of errors.
A lack of multi-currency accounting functionality - your system is unable to manage sophisticated multi-currency processing and reporting requirements and you need this as your company has started to expand/trade internationally.
New software releases aren't meeting business requirements - you may have decided that an upgrade is required, but latest releases of the software don't include the functionality or flexibility required to meet your organisation's new business requirements.


If you can relate to these accounting system weaknesses, you may need to consider a change. Investing in new accounting software is of course a big time and money commitment, but taking no action will only hinder further business growth.
At Eclipse we recommend SunSystems (sometimes referred to as Sun Accounts/SunAccount), a market leading financial management system trusted by over 9,000 organisations in 190 countries. The solution is designed to meet the intricate needs of growing international companies with complex requirements. For further information please call +44 (0)203 866 8800, or view our Infor SunSystems webinar recording: