systems@work Version 5.0 Released
Fri 18th Dec
systems@work has released expense@work, forms@work and time@work Version 5.0
Version 5 of the software represents the most significant set of enhancements to date and introduces a host of new features and functionality to improve productivity and user experience.
New features and functionality include:
Item ("Portrait") View On Forms
Forms can now be viewed in item ("portrait") mode (a single row on one page) rather than in 'grid' mode. Users can toggle between the two modes as preferred and Administrators can set the default mode for a form type in the Maintenance Application.
In 'item' mode you'll see all fields arranged across the page without the need to scroll horizontally. In addition the page is also responsive to the resolution of your screen.
This new functionality greatly extends the possibilities of additional forms based workflows within our applications.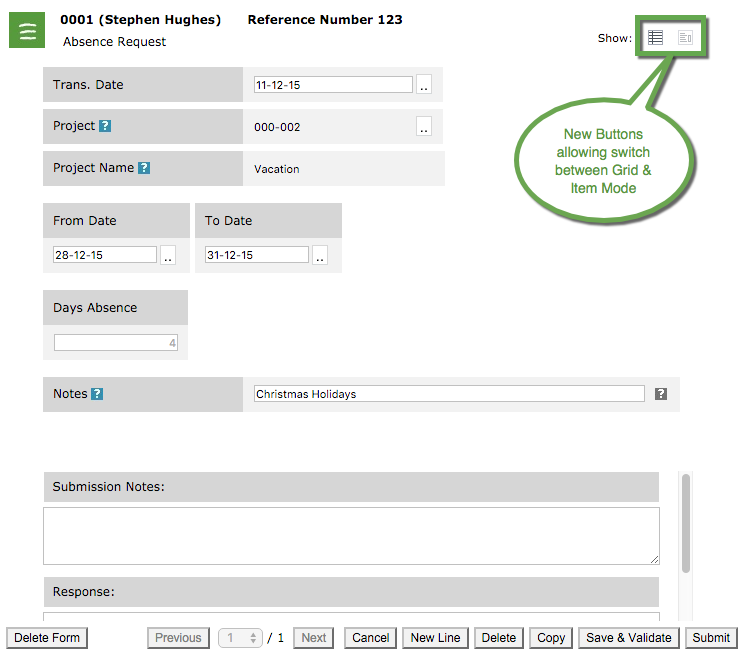 Export & Import Forms Via Excel
One of the most exciting new features in Version 5 is the ability to import expense items directly from Excel. A forms structure can be exported directly to Excel, completed in Excel if preferred and then imported back to the form from the desktop. This functionality will be particularly useful for users who wish to complete forms offline or who need to import data from their personal credit card without the need to rekey everything from scratch.

In-Form Reporting
Reports can now be run from within a form or an employee timesheet. For example when completing an expense form a user run a report to see if they had submitted similar expenses before. A timesheet user could see how much time they had previously spent on a particular.
Multiple Analysis Item Selection
One of the most requested enhancement requests has been the ability to select multiple items from a drop down field on a form or timesheet and we are delighted to introduce this functionality in Version 5. This can be very useful in scenarios where you need to select multiple clients on a single expense line or multiple activities on a single timesheet line.
Web Invoicing
Time & Expenses data can now be invoiced via the web as can their authorisation and review. Invoice Reprint is also available via the web as well as Invoice Status Inquiry. Distribution Masks and Data Access Categories may be used to limit the visibility of Projects for those Employees permitted to use Invoicing. You may also automatically email invoices in Word, Excel or PDF format to specific recipients. Invoicing is continuing to be developed within the time@work Maintenance Application and in this release it has been enhanced to enable invoice emailing.
Other New Features
Employees can now import their own credit card data via the web.
You now have an option to specify form-level confirmation for a form.
You may now use a form to create TIMESHEET transactions. This enables submission of timesheet data from the systems@work App or from a form in the PSW. The data submitted from the form is incorporated into your timesheet.
You may now specify that a Ledger Export Profile should be invoked when a form is posted.
Ledger Export Profiles may now, in turn, invoke Data Import Profiles. Chaining these processes together enables you to use a form to create a new Employee, for example. The new demonstration database illustrates this possibility.
You may now invoke a Data Import Profile from a Ledger Export Profile.
You may now execute Data Import Profiles via the Web.
You may now import many to one relationships, such as Skills to Employee, Employees to Project.
The performance of Data Import is greatly improved and is as much as ten times faster.
Credit Card statements may now be imported using Data Import. Additional features enable you to suppress 'unique reference' checking and to import data for Employees specified in the import file.
You may now control the textual content of an allocation email and diary entry.
You may specify an alternative calculation if a condition is not met. This greatly increases the possibilities available in the standard sequence of 20 calculations.
In version 5 there is the first version of the Project Assistant. This is an optional page invoked from occurrences of Project in Forms and Timesheets and displays specified analysis and descriptive values.
For further information, please contact us on +44 (0)203 058 1000 or send an email.