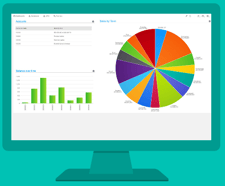 A note from the Infor SunSystems Director of Product Management, James Chisham.
The past 18 months have seen a number of key developments and product enhancements for Infor SunSystems. Most notably the 6.2 release was an important milestone in delivering a fully Unicode-enabled version of the software. Infor SunSystems has always been a solution that can easily and quickly respond to unique business requirements—whether requirements are language, currency, management reporting, statutory reporting, or special accounting treatments.
Additionally, there are further core product enhancements, such as the very powerful and rich Extended Analysis module, and the Enterprise Data Management feature. There will continue to be core enhancements to the software and consumer-grade user experience using technology innovation to meet the requirements that users demand in order to run their businesses. Below are some of the capabilities contained within SunSystems 6.2 to support your finance function and business into the future and secure your product investment.
There are new features that you may not be aware of that we are also delivering in the near future to build on the successes we are already seeing with the 6.2 release. One of the areas that many SunSystems customers talk about is the ability to store documents with transactional records in SunSystems; Purchase Orders/Sales Orders, contract documentation etc. With the Version 6 product line we are about to launch our integration with Infor Document Management (IDM). Infor Document Management is an integration platform and a repository for business documents and content. In industry terms it is a Document Management system, or Content Management system, that lets you get access to your business documents, in-context, at all times. With the integration we are delivering with SunSystems this means documents can be attached to journals, customers, suppliers and order/invoice transactions all in-context to the record you are working on. This means SunSystems customers can manage the whole lifecycle of your business documents, from input through storage, retrieval and sharing and find documents by searching for them using an attribute-based search or free-text search.
Another new initiative that we are looking to introduce is the advent of Web Portals with SunSystems. A common request we see is the ability to surface information to external users, and indeed internal users of SunSystems. Therefore providing secure web access to Customer or Suppliers to support to surface certain SunSystems data. An example is for a customer to log into the portal to see a listing of all orders and their statuses. This will give both internal and external users access to SunSystems data, without the need for them to be a fully-fledged user. The advent of the portal in SunSystems will be our first pass in delivering some initial B2B and B2C web capabilities. With the delivery of SunSystems on the web this will be an exciting new feature for customers to consider. We will be issuing more details on this new functionality in due course.
Finally, one of the great features of SunSystems has been the delivery of simple and powerful ad-hoc querying and reporting delivered by Q&A (Query & Analysis) or Vision as many of customers would know it as. This has been a key feature of our solution of many years. As technology has advanced and IT departments push to move to more contemporary operating systems and versions of Office, there has been a strong call for Q&A to be offered in 64-bit Office environments. Many customers may be aware that we have recently introduced our next generation of Q&A reporting, Q&A Evolve. This new member of the Q&A family has been introduced to meet the need of these requirements and offers users a 64-bit Office capability. At the same time the product has been re-factored and is being developed to encompass some of the BI (Business Intelligence) capabilities that Infor offers, and this version will support the use of Dashboards, which will deliver a web and mobility version of Q&A queries in a very visual and consumer focused fashion. We are offering customers the opportunity to take advantage of some of the benefits of Q&A Evolve, by allowing the concurrent operation of Q&A 10 and Q&A Evolve, which gives customers time to evaluate and plan a move to this newer version in their own time. Again we would like to share more information on this important release with you.
To find out more information on what's new in the SunSystems world and for further insight into the latest features and modules, view our latest webinar recording: