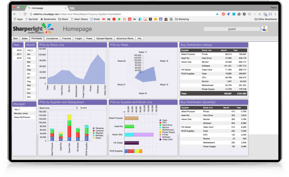 Management Reporter (MR) is the financial report writer that comes packaged with Dynamics GP software. MR replaced the retired FRx tool back in 2011. Many FRx users migrated to MR at the time for their financial reporting needs. The tool was optimistically viewed as an upgrade to FRx, however many found MR to be a poorly designed replacement. Dynamics GP MVP Mark Polino has voiced the dissatisfaction with MR, "...many of Management Reporter's promised features haven't materialized and the product has continued to struggle".
In 2016, it was announced that although MR for Dynamics GP would not be discontinued, there will be no major enhancements going forward. Pam Misialek from Microsoft stated, 'MR for Dynamics GP will continue to be supported and ship now and in the future releases of Microsoft Dynamics GP. Large features like going fully to the cloud and other major enhancement will not be made to MR for Dynamics GP'.
Existing MR clients that are happy can stay the course with MR or choose to implement an alternative reporting solution that does the same as MR and more. If you are reading this, you are likely unhappy with MR and may be frustrated with the tool's limited functionality and lack of enhancements. The good news is there are alternative reporting solutions, which may not be free with Microsoft Dynamics, but the efficiency, low total cost of ownership and decrease in resources is no doubt much less expensive than MR in the long term.
Here at Eclipse, if you are dissatisfied with MR we recommend considering Sharperlight, a low maintenance, highly flexible reporting and business intelligence platform. Sharperlight provides out-of-the-box access to a wide variety of popular business systems, including SAP Business One, Microsoft Dynamics GP and Infor SunSystems. With the development of a Custom Datamodel, an intelligent connector to the application database, it can also extend access to any solution and its data sources, delivering a comprehensive, enterprise wide BI solution. Sharperlight features include:
A native Microsoft Excel Add-in
Rapid analysis and drill down
A simple to use query engine, over single, or multiple systems simultaneously
Distribution of management reports over the web
Ad-hoc & structured reporting

For further information please call +44 (0)203 866 8800, download our, '10 Ways Sharperlight Can Transform Your Reporting Processes' eBook, or register for our webinar, 'Accessing Data Anytime, Anywhere with Sharperlight':