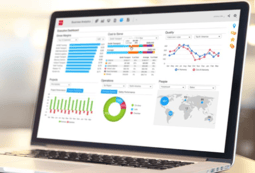 Senior finance professionals are under pressure to make the right business decisions. This can be tricky when an organisation's data is hard to access. Many organisations have multiple business applications with data that needs to be consolidated to provide an accurate representation of the business. Companies can struggle with their ability to consolidate, measure, monitor and proceed. This can make it difficult for organisations to produce strategic plans representative to their market position.
Infor Dynamic Enterprise Performance Management (Infor d/EPM) is an analytics platform that combines Infor Business Intelligence (BI) and Infor Enterprise Performance Management (EPM) with continuous controls monitoring (CCM). The solution's integrated platform enables organisations to merge data from multiple sources into a single report to easily visualise their data, make sense of their business and plan for the future. Infor d/EPM integrates with other business solutions, including Infor SunSystems, various other Infor applications, as well as other financial management solutions, such as Microsoft Dynamics GP, SAP and more.
Here are some of the key benefits of the Infor d/EPM platform:
Provides real-time access to critical business information – gain valuable insights across all data sets in real-time to see how your business is performing, anytime, anywhere and on any device.

Get a single version of the truth for better business decisions.

Improves analysis and reporting – carry out ad-hoc reporting and analysis via the

web and Excel-based interface

. Design your own dashboards to illustrate the report you require, without relying on the IT team for assistance. Personalise dashboards by industry and business process areas.
Enables the creation of optimal business plans, forecasts and models – quickly and easily manage all your budgeting, planning and forecasting needs within one integrated solution. The platform enables predictive modeling, operational planning, including development of sub-plans for workforce budgets and sales plans.
Helps to ensure compliance – monitor your systems for anomalies, violations and to detect risk.
Ends the limitations of Excel Reports – data is stored in a central database rather than local files, minimising typical spreadsheet shortcomings, such as manual rekeying of data, time consuming consolidations and risk of human error. The solution automatically consolidates data so there is no need to have to manually update spreadsheets.

For further information on how Infor d/EPM can help organisations drive enhanced business performance, call us on +44 (0)203 866 8800, or view our recent Infor d/EPM webinar recording: