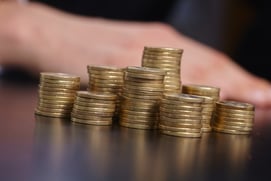 The Accounts Payable (AP) function is often a neglected area of the business and for many organisations there are often a few horrors hidden in the closet. These horrors often stem from the high level of paper intensive, manually intensive and error-prone processes that AP staff carry out on a daily basis. Quite often, areas of AP processing aren't even benchmarked.
Bearing this in mind, it is important to consider how much the following AP related items are costing your organisation and what you can do to reign in these costs:
Mailroom services – whether invoice processing is a specific mailroom function, or whether it is carried out by the AP department, manual invoice processing is a waste of time, resources and paper when staff could be spending their time on more value-added activities.
Paper storage – paper storage is expensive, not sustainable and does not play into the 'green' message that many organisations are looking to promote.
Processing errors – often mistakes get spotted, but it is too late to do anything about it. If you are able to spot processing errors very early in the process rather than at payment time then you can really cut down costs, both in terms of having to recover that money or issue credits, but also in terms of saving time in having to resolve those errors.
Late payment penalties – not being able to process invoices quickly enough in order to meet payment terms is a big issue for many businesses.
AP staff – AP staff is one of the most obvious costs to the AP department. The sheer cost of employing staff to process paper invoices, deal with PDF invoices that have to be printed out and the information rekeyed into the finance system as per a paper invoice can be huge. Again, staff could be focusing on more value-added tasks instead.
Maverick spend – are your employees violating company policies and procedures in the procurement of goods and services? You may be buying the same service from multiple different suppliers and not maximising your chance for cost savings.
Missed opportunity costs – if organisations do not have an effective invoice processing solution in place it means that AP staff may not have the time to look into other areas of spend control, such as purchase ordering. Purchase ordering is very important in controlling spend and pre-authorising spend. Procurement initiatives can also be put in place so you can start to engage in a much more value-added way with your suppliers and treat them as partners rather than commodity providers. This will help create contracts that are beneficial to you by making sure you purchase goods and services at the best possible price.
AP doesn't have to be just a back-office function with little strategic importance. If your organisation is suffering from neglected AP costs and opportunities, it is time to look at transforming AP into a value-added payment and supplier services provider through leveraging technology and efficient processes. Here at Eclipse we recommend the PROACTIS Spend Control Solution Suite to help you achieve this.
For further information, feel free to contact us on +44 (0)203 866 8800, or download the related whitepapers: