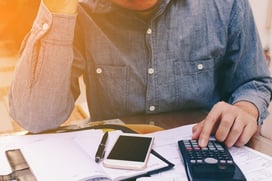 Recent research shows finance teams spend around 18% of their time just on general admin tasks – that's nearly a whole day a week. The processing of employee expenses is one of the activities slowing the finance team down. It is one of the least automated and most time-consuming tasks and is also prone to errors.
Many companies use simple spreadsheet based information recording for their employee expenses, which can make it far too simple for staff to bypass corporate policies. Individuals with corporate credit cards often take months to provide information, while managers tasked with authorising expense claims rarely have the time or inclination to plough through the detail of each claim to ensure compliance. Read more about the challenges organisations face around employee expenses here.
We recently partnered with Concur to provide a cloud-based employee expense management solution to our clients and prospective clients. Concur Expense is an easy-to-use employee expense management platform, which helps organisations improve productivity, compliance and control over their business expenses.
With Concur Expense, organisations can:
Capture - m

ake expense reporting simple, fast and accurate. E-receipts capture transaction data directly from airlines, hotels, restaurants and car companies, automatically creating accurate, detailed expense report entries. Employees can also take photos of receipts, saving them time and hassle.

Submit - s

ubmit accurate expense reports on time, from anywhere. Say goodbye to paper receipts and spreadsheets. Concur's support for automated, mobile expense management means employees can submit and track expense reports with their mobile device.

Approve - im

prove employee satisfaction with faster reimbursement. Managers can easily review and approve expense reports from any device, reducing employee reimbursement cycle times by two-thirds.

There are many reasons to take the pain out of employee expenses through automation, but some of the key benefits include, streamlined processes, greater visibility, effective spend control, a positive ROI and compliance.
If you would like to see how your organisation can take the pain out of employee expenses, feel free to call +44 (0)203 866 8800, or view our recent webinar recording, 'Taking the Pain Out of Employee Expenses':